Are Snack Bars Healthy - Cereal, Protein, Fruits, Granola - Myths and Facts
Cereal bars, granola bars, protein bars, muesli bars and breakfast bars are marketed as healthy snacks but what are the facts and are they really healthy?
How do you make the healthy choices?
There is a huge range of type available and this makes it hard to choose the healthy ones and to know what to look for when choosing a snack that you can be assured is not full of sugar and fat and stuffed with artificial ingredients.
It is alarming that recent surveys has shown that most of they are more than 20% sugar and contain more calories and fat than an equivalent amount of chocolate. The same warning applies to protein bars that are stuffed with sugar and fat. The best way of course is to make your own granola bars, protein bars and protein shakes and smoothies.
This article aims to dispel the myths about snack bars and provides some advice as to what to look for when choosing a snack bar that is really healthy.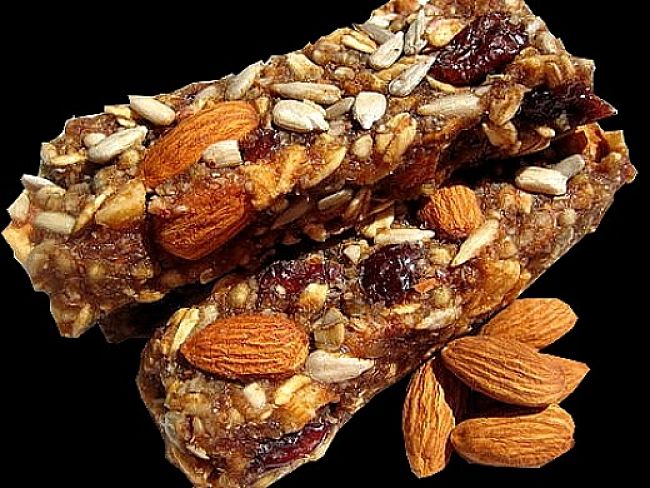 Dispelling the Myth - Most Cereal, Protein, Fruit and Snack Bars are not Healthy and are Stuffed with Sugar, Calories and Fat
Recent research by the consumer organisations 'Which?' in the UK and 'Choice' in Australia found that most cereal bars are rich in fat and sugar and have more calories per 100g than a bar of chocolate.
Shown below is a table of 90 cereal and protein bars listed from highest calories counts per 100 g to the smallest.
=> For comparison the nutrients in apples, oranges and peanuts as well as a variety of fruit snacks is provided for comparison (all for 100 g servings).
=> Similarly the nutrients in 100 g of dark milk and white chocolate is also included for comparison.
The researchers found that 90% of the bars they examined were high in added sugar with more then 20% of the weight being pure sugar, equivalent to about 4 teaspoons of sugar per 100 g, or 2 teaspoons in a bar weigh about 30-50g.
Many different kinds of sugar were found in the cereal bars suggesting that the makers may have been trying to obscure the sugar levels on the labels.
The types of sugar included were sugar, dextrose, grape juice concentrate, lactose, fructose, dried glucose syrup, barley malt syrup, glucose-fructose syrup, molasses, inverted sugar syrup, raw cane syrup, golden syrup, honey and glucose syrup. A cereal bar that has honey, fructose and glucose syrup as ingredients will have these 3 ingredients listed separately and not as added sugar, even though they are all sugar. This tends to hide the total sugar content. About 30% of the bars were very high in saturated fat (more than 5g of saturated fat per 100g). For example Chocolate Chip Tracker bar (37g) includes some 9 g of fat, representing an alarming 43% of the calories in the bar! Fat should only account for about 30% of your calorie intake in a balanced.
About half of the bars included in the table have more calories per 100 g that an equivalent size bar of chocolate (500 Calories per 100g). Many also have higher fat contents than chocolate. The table also demonstrates that fresh fruit and snacks based on diced processed fruit and fruit salad portions are much healthier than the snack bars (listed at the top of the table).
Bad Choice Examples
Nutri-Grain health bars, containnearly four teaspoons of sugar (18 g) - more than was found in a small 150 m1 can of cola (15,9g) and 20 per cent of the recommended daily allowance.
Monster Puffs, a cereal bar aimed at children and described as "great for your lunchbox", contained 43.5 % fat, equivalent to more than two teaspoons of fat. Many snack bars targeted for children were very high in saturated fat and have high added sugar.
The Tracker Roasted Nut bar was found to be almost 35% fat; while some of this came from the peanuts and hazelnuts that also provided some nutritional content, the ingredients also contained vegetable fat and harmful hydrogenated fats.
Good Choice Examples
The Naked Apple Pie was the only bar tested that did not contain added sugar.
Alpen Light Apple and Sultana was the only one to have three green traffic lights for fat, saturated fat and salt.
Odwalla Bars (made with whole fruit and grains) - Some varieties had more than 5 grams of protein per bar, and most contain 3 gm of fiber. They tended to be pretty low in saturated fat, but their percentage of calories from sugar ranges from 26 % to 47 %, depending on the flavor.
One of the lowest-sugar Odwalla bars is Peanut Crunch: One bar (62 grams weight) contains 260 calories, 8 grams protein, 3 grams fiber, 7 grams fat (1.50 saturated fat) and 26% calories from sugar.
The Weetabix Strawberry Crusher bar was the healthiest choice for children, with low salt content and medium levels of fat and saturated fat.
Clif Bars (made with organic oats and soybeans) - Clif bars score really well on protein and fiber content. The bars examined had 5 grams of fiber, 10 or more grams of protein, around 33% calories from sugar, and 4-5 grams of fat (1.5-2 grams of saturated fat) per bar.
Debunking The Myths about Snack Bars
If you are looking healthy snack bar choices you need to read the label carefully exactly to see what the bar contains. Similarly you need to not be fooled by the many myths that mislead people into making unhealthy choices about snack bars. The occasional snack bar is not going to ruin your diet, provided you eat well during the day. But the nutrition data clearly shows that there are dangers is eating these snacks as regular meal replacements or as regular between meal snacks. Always consider other snack ideas such as a slice of wholegrain toast with honey, and an apple or an orange, low-fat, low cal yoghurt with fresh berries or fresh fruit. Healthy granola or muesli also makes a healthy between-meals snack.

Myth: Cereal bars have lower calories and less sugar than a bar of chocolate
Wrong: The table clearly shows that 50% of the bars have more calories than a chocolate bar, partially due to their high fat contents.
Myth: A label that reads reduced or low fat will always be a good healthy choice.
Wrong: This is not true in many cases because the labeling can be misleading. Depending on the country low-fat products generally must contain less than 3g of fat per 100g. However, the term 'reduced fat' is not regulated to mean anything. If the product such as cheese has a very high fat content, choosing a reduced fat version may still contain far too much fat. Likewise goods labelled 'low fat' or 'reduced fat' may have high sugar or have high dried fruit contents and may have high calories.
Myth: Dried fruit has few calories and is therefore a healthy snack.
Wrong: Dried fruit is fresh fruit with the water extracted. This means that dried fruit has a huge number of calories on a per weight basis . For example, a fresh apricot (43g with stone) contains only about 12 calories while a dried apricot (8 g) contains 15 Calories, and 40 g or dried apricots contains 75 calories ( 5 times as much). Dried fruit is a good source of fiber and some nutrients, but the drying process wipes out most of the Vitamin C, and any other nutrients in the fresh fruit. So beware of bars packed with dried fruits and nuts which will generally have very high calories.
Myth: It's always best to choose a cereal bar that has no chocolate
Wrong: Cereal bars that contains nuts, dried fruit, honey and fats can have more calories than one with chocolate chips, or chocolate coatings. Chocolate is not all bad news as it contains many healthy nutrients. Check the labels to compare the varieties available and choose wholegrain bars that have low sugar, low fat and low salt content, irrespective of whether they contain chocolate.
Myth: Yogurt-coated bars are a healthier choice than bars coated with chocolate
Wrong: Yogurt-coated products can be rich in fat and sugar. For example 50 g of Yogurt-coated raisins contains 250 calories, which is very similar to chocolate coated ones and the fat level may be lower.
Myth: Bars with mixed seeds and nuts are a healthy choice.
Fact: Mixed seeds and nuts are an excellent source of nutrients but they are calorie dens foods and the calories and fat can build up very quickly. Always check the calorie and fat contents of these bars.
Tips For Making Health Choices of Snack Bars
Does the bar have at least 3 grams of fiber?
Does the bar have at least 5 grams of protein?
Does the bar contain less than 35% calories from sugar? Sugar has 4 Calories per gram, so to calculate the calories from sugar as a percentage multiply the grams of sugar by 4 and express this as a percentage of the total calories. For example Nature's Choice Multigrain Raspberry bar has 12 grams of sugar which is equivalent to about 50 Calories. The total calories in the bar is 120 calories and so about 40% calories are from sugar.
Does the bar have too much fat and saturated fat? Find bars that have very low amounts of saturated fat and low amounts of total fat. But you don't want too much fat, and you certainly don't want any saturated fat if you can help it.
Does the bar have lower GI scores which helps to prevent a blood sugar spike and subsequent hunger. Choose bars with a higher protein content, and high fiber content. Bars that have more seeds and nuts are generally better that those with lots of cereal and dried fruit, which are rich in carbohydrate. But check the calorie levels.
Nutrition Comparisons for Various Snack Bars
| | | | | | | | | |
| --- | --- | --- | --- | --- | --- | --- | --- | --- |
| FRUIT SNACKS | | | | | | | | |
| WeightWatchers Peaches in mango jelly | 12 | 0 | 0 | 2 | 2 | 66 | | 0.2 |
| Australian sultanas | 320 | 0.8 | 0.2 | 76 | 4 | 16 | | 2 |
| Goulburn Valley fruit salad in juice | 70 | 0 | 0 | 17 | 2 | 8 | | 0.5 |
| Goulburn Valley diced two fruits | 50 | 0.1 | 0 | 12 | 1 | 8 | | 0.66 |
| Goulburn Valley diced apricot | 60 | 0.3 | 0.1 | 17 | 1.3 | 2 | | 0.8 |
| APPLE | 53 | 0.2 | 0 | 14 | 2.4 | 1 | | 0.3 |
| ORANGE | 45 | 0.1 | 0 | 12 | 2.3 | 0 | | 1 |
| Peanuts | 489 | 0.1 | 0 | 12 | 2.3 | 0 | | 1 |
| CHOCOLATE BARS | | | | | | | | |
| Peanuts | 498 | 43 | 6 | 18 | 7 | 6 | | 20 |
| Arnott's Tim Tam Fingers | 516 | 27 | 13.3 | 45 | 0 | 170 | | |
| Mars Bar | 502 | 19 | 11.2 | 56.8 | 1.4 | 140 | 0 | 3.8 |
| Dark Chocolate | 450 | 30 | 20 | 62.5 | 7.5 | 37.5 | 0 | 7.5 |
| Milk Chocolate | 525 | 32.5 | 20 | 65 | 2.5 | 87.5 | 0 | 7.5 |
| White Chocolate | 611 | 34 | 22 | 60 | 0 | 100 | 220 | 6 |
| SNACK BARS | | | | | | | | |
| MET-Rx Big 100 | 1140 | 24 | 12 | 80 | 6 | 0 | 1350 | 84 |
| Detour (30 g protein) | 1080 | 36 | 15 | 80 | 9 | 0 | 420 | 90 |
| Pure Protein | 930 | 30 | 15 | 72 | 4.5 | 0 | 900 | 96 |
| Odyssey | 930 | 30 | 12 | 80 | 12 | 0 | 450 | 90 |
| PowerBar ProteinPlus | 900 | 18 | 10.5 | 80 | 12 | 0 | 1275 | 69 |
| Snickers Protein Performance Bar | 870 | 24 | 9 | 80 | 12 | 0 | 1500 | 69 |
| Promax | 870 | 18 | 10.5 | 80 | 12 | 0 | 600 | 60 |
| Kashi GoLean Bar | 855 | 18 | 12 | 80 | 18 | 0 | 255 | 39 |
| Harvest PowerBar | 735 | 15 | 3 | 80 | 15 | 0 | 1200 | 30 |
| Clif Bar | 735 | 15 | 5.4 | 70 | 15 | 0 | 750 | 30 |
| GeniSoy Soy Protein Bar | 720 | 15 | 8.4 | 80 | 3 | 0 | 645 | 42 |
| EAS AdvantEdge Complete Nutrition | 720 | 21 | 14.1 | 81 | 6 | 0 | 900 | 51 |
| PowerBar Triple Threat | 690 | 21 | 9 | 80 | 12 | 0 | 450 | 30 |
| Odwalla Bar | 690 | 15 | 4.5 | 80 | 6 | 0 | 750 | 15 |
| Atkins Advantage Original | 690 | 30 | 15 | 69 | 24 | 0 | 900 | 57 |
| Snickers Marathon Energy Bar | 660 | 21 | 5.1 | 80 | 6 | 0 | 1350 | 33 |
| SlimFast Optima Meal & Meal-on-the-Go | 660 | 18 | 9 | 85 | 15 | 0 | 900 | 24 |
| ZonePerfect | 630 | 21 | 12 | 66 | 6 | 0 | 300 | 45 |
| South Beach Meal Replacement | 630 | 18 | 9 | 78 | 15 | 0 | 300 | 57 |
| PowerBar Nut Naturals | 630 | 30 | 3 | 60 | 9 | 0 | 450 | 30 |
| LARABAR | 630 | 33 | 6 | 72 | 9 | 0 | 150 | 15 |
| Balance Gold Bar | 630 | 21 | 12 | 69 | 3 | 0 | 300 | 45 |
| Clif Mojo Bar | 615 | 27 | 6 | 66 | 6 | 0 | 165 | 30 |
| Sun Health Foods Rice Syrup bar Macadamia and honey | 604 | 50.6 | 9 | 31.2 | 0.9 | 8 | | |
| Balance Bar | 600 | 18 | 6 | 66 | 6 | 0 | 285 | 42 |
| Uncle Tobys Crunchy Nut Crumble 6 x 20g | 586 | 21.6 | 4.7 | 22.4 | 11.5 | 353.3 | | |
| Myoplex Lite | 570 | 15 | 9 | 78 | 12 | 0 | 750 | 45 |
| Nature Valley Crunchy Granola Bar | 540 | 18 | 1.5 | 82 | 6 | 0 | 0 | 12 |
| Luna Bar | 540 | 15 | 3 | 78 | 9 | 0 | 1050 | 30 |
| Kashi TLC Crunchy Granola Bar | 540 | 18 | 1.5 | 78 | 12 | 0 | 0 | 21 |
| Detour (15 g protein) | 540 | 18 | 9 | 51 | 3 | 0 | 240 | 45 |
| Kelloggs Crunchy Nut Nutty | 533 | 35.6 | 10.9 | 26.2 | 5.1 | 275 | | |
| Go Natural Nut Bar macadamia and hazelnut | 529 | 40.5 | 5.7 | 21.7 | 7 | 14 | | |
| Golden Days Seasame Snaps Original | 521 | 30.5 | 4.6 | 37.8 | 0 | 99 | | |
| Go natural Nut Delight | 521 | 39.9 | 4.5 | 20.2 | 7.5 | 16.4 | | |
| Pria Grain Essentials | 510 | 9 | 1.5 | 90 | 15 | 0 | 1200 | 18 |
| Pria Complete Nutrition | 510 | 18 | 10.5 | 66 | 15 | 0 | 1200 | 33 |
| Snickers Low Carb Lifestyle Bar | 495 | 21 | 6 | 57 | 21 | 0 | 1500 | 42 |
| Kashi GoLean Crunchy! Bar | 495 | 12 | 6 | 84 | 15 | 0 | 600 | 24 |
| Wheelies mini sandwich cookies | 492 | 20 | 12 | 28 | 0 | 300 | | |
| Sun Health Foods Rice Syrup bar Cashew and honey | 489 | 29.1 | 5.2 | 31.1 | 2.2 | 24 | | |
| Go natural Yoghurt Almond and Apricot | 486 | 30.7 | 20.3 | 41.5 | 6.6 | 48 | | |
| Mrs May's strawberry Trio bar | 485 | 34.3 | 4.3 | 17 | 5.7 | 129 | | |
| Ministry of Muffins Little bites muffins choc fudge brownies | 483 | 24.1 | 6 | 42.4 | 0 | 270 | | |
| White Wings Homestyle Chunkies minis choc chip | 468 | 16.8 | 12 | 33.8 | 5.1 | 260 | | |
| Nature Valley Crunchy Oats and Honey | 462 | 16.1 | 11 | 27 | 6.2 | 340 | | |
| Snickers Marathon fortified for women | 450 | 9 | 6 | 69 | 15 | 0 | 1800 | 30 |
| Extend Bar | 450 | 9 | 3 | 63 | 15 | 0 | 90 | 33 |
| Be natural four currant + nuts + grains + seed | 445 | 21.7 | 3.2 | 26.3 | 5.3 | 150 | | |
| Carmens Yoghurt Apricot and Almond bar | 442 | 22 | 5.6 | 25.2 | 5.5 | 49 | | |
| Glucerna Snack Bar | 435 | 12 | 9 | 69 | 6 | 0 | 75 | 21 |
| Uncle Tobys Yoghurt Tops Apricot | 433 | 16.3 | 8.8 | 30.1 | 5 | 33 | | |
| Carmen's Original fruit-free muesli bar | 430 | 18.2 | 2 | 12.1 | 7 | 45 | | |
| South Beach Diet Cereal Bar | 420 | 15 | 12 | 45 | 9 | 0 | 450 | 30 |
| Kashi TLC Chewy Granola Bar | 420 | 15 | 1.5 | 60 | 12 | 0 | 0 | 18 |
| Paradise Vive Lites mini choc | 413 | 6.8 | 3 | 34.1 | 3.1 | 325 | | |
| Kelloggs Special K Chocolatey Bars - raspberry flavour | 413 | 8.1 | 5.8 | 29.4 | 2.5 | 250 | | |
| Woolworths Homebrand Chewy muesli bar Strawberry and Yoghurt flavoured | 411 | 10.8 | 8 | 27.8 | 4.2 | 120 | | |
| Sun Health Foods Hifi plus yoghurt, macadamia and apricot | 410 | 22.2 | 9.8 | 26.8 | 15 | 29 | | |
| Ministry of Muffins Little bites muffins choc chip | 394 | 15.9 | 4.1 | 36.4 | 9.3 | 365 | | |
| Balconi Trancetto | 392 | 17.6 | 8.7 | 35.2 | 0.7 | 0.2 | | |
| Kelloggs All-Bran Bar | 390 | 9 | 1.5 | 63 | 15 | 0 | 0 | 6 |
| Mills and Ware Muffin bars chocolate | 382 | 14.8 | 2.2 | 25.3 | 8.9 | 295 | | |
| Mills and Ware Muffin bars choc chip | 380 | 14 | 4.7 | 28.7 | 9.5 | 300 | | |
| Be Natural trail bars Honey nut | 368 | 8.4 | 1.6 | 13 | 11.8 | 150 | | |
| Be Light (Aldi) Cereal bar Orange flavoured | 368 | 2.9 | 0.7 | 13.6 | 7.6 | 180 | | |
| SlimFast Optima Snack & Orig. Snack | 360 | 12 | 6 | 57 | 3 | 0 | 720 | 6 |
| Kelloggs K-Time Twists Raspberry and apple | 339 | 5.8 | 0.8 | 35.6 | 5.6 | 180 | | |
| Pria PowerBar | 330 | 9 | 6 | 48 | 3 | 0 | 900 | 15 |
| Hillcrest (Aldi) fruit filled Apricot flavoured bars | 320 | 2.9 | 1.1 | 27.9 | 6.8 | 345 | | |
| Uncle Tobys Bodywise Apple delight 6 x 35g | 318 | 6.3 | 0.9 | 16.2 | 25.4 | 90 | | |
| Weight Watchers Oven baked ceraeal bar strawberry and blueberry duo | 315 | 0.9 | 0.2 | 30.3 | 12.8 | 225 | | |
| Leda Nutrition Baked fruit filled bar Apple flavour | 311 | 0.9 | 0.1 | 49.8 | 5.1 | 115 | | |
| ZonePerfect Snack Size | 240 | 9 | 4.5 | 27 | 0 | 0 | 120 | 18 |
| All Natural Bakery Honey and oat slice - Apricot | 215 | 10 | 6.2 | 8.5 | 3.8 | 96.5 | | |
| All Natural Bakery oat slice Nut Delight | 156 | 8 | 4.1 | 5.5 | 2.6 | 61.3 | | |
| All Natural Bakery oat slice yoghurt peach and mango | 145 | 6.7 | 4.5 | 7.7 | 2.4 | 59 | | |
| Adams Bruce mini cakes Light fruit and sticky date | 105 | 2.6 | 1.1 | 9 | 0 | 73.3 | | |