Best Food Sources for Each Antioxidant Type and Overall
Free radicals are a type of waste produced by the cells in the body as it processes food, undertakes exercise, deals with stress and reacts to challenges imposed by the environment. Free radicals are also referred to as reactive oxygen species (ROS). If the body cannot process and remove free radicals they can build up and damage cells and impair body function. This is referred to as oxidative stress.
See this reference Oxidative Stress: Harms and Benefits for Human Health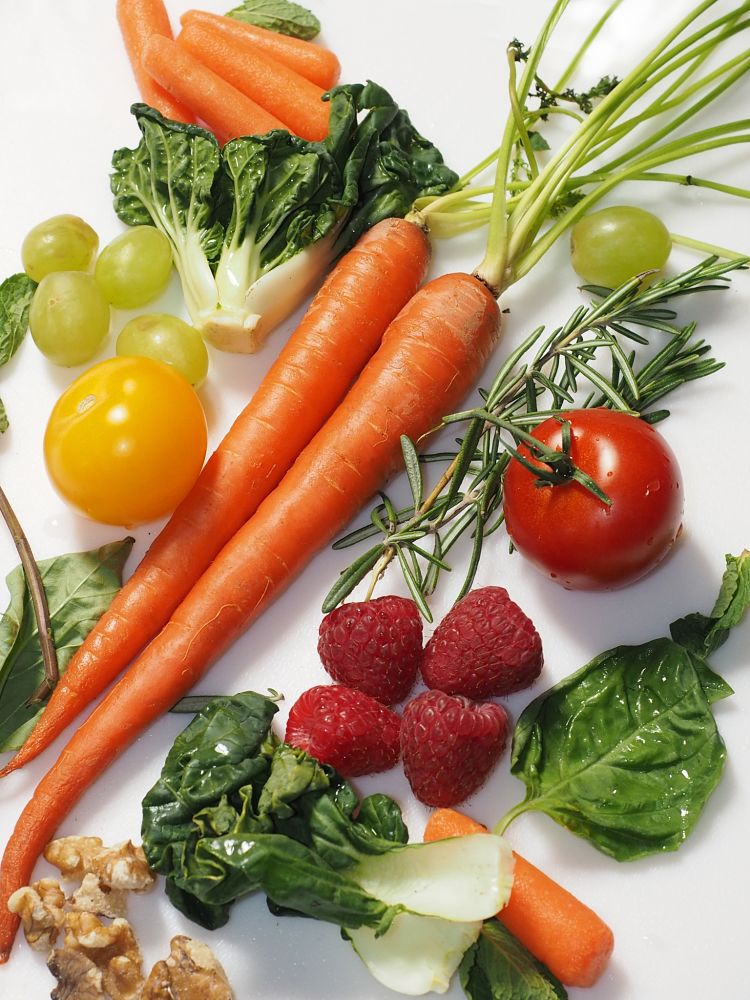 Oxidative stress in the body is due to a mismatch between the production and build up of reactive oxygen species (ROS) in cells and the ability of the body to detoxify these reactive products. Such an imbalance can cause to cell and tissue damage (oxidative stress).
Processes that elevate the production of free radicals in the body can be internal, such as inflammation or damage through stress or exercise. Or due to external processed, such as, pollution, UV exposure, toxicants and cigarette smoke.
Oxidative stress, due to higher than normal levels of free radicals has been linked to heart disease, respiratory diseases, immune deficiency, cancer, arthritis, stroke, emphysema, Parkinson's disease, and other inflammatory or ischemic conditions.
Antioxidants are substances that can prevent or slow damage to cells caused by free radicals. Antioxidants are referred to as 'free-radical scavengers' as they mop up and neutralise the harmful build up of free radicals in the body and overcome the imbalance problems.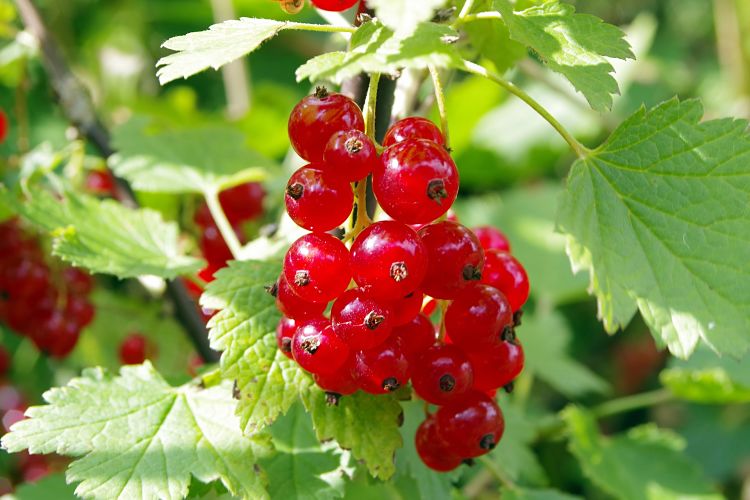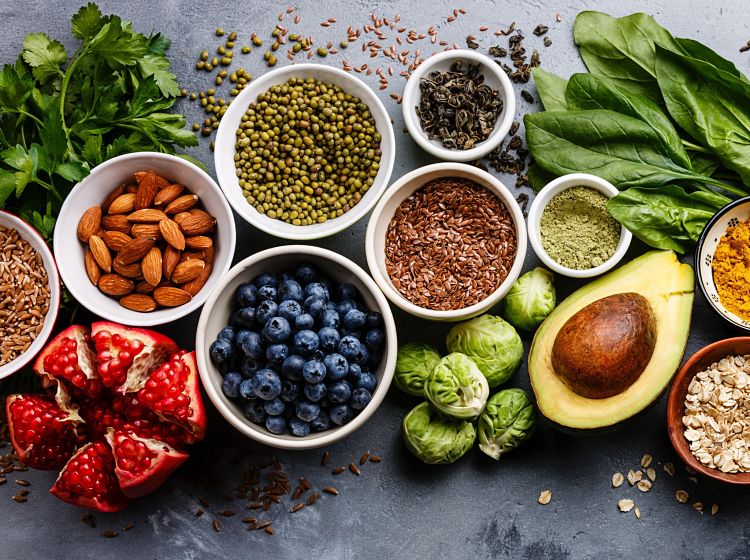 The origin of antioxidants in the body can be natural (internal) or artificial (external). The body produces its own antioxidants. Antioxidants boost overall health by helping to neutralize free radicals in our bodies. Certain plant-based foods are rich in antioxidants and including them in your diet can help boosts or sustain overall health.
Many vitamin supplements aim to provide sources of one or more antioxidants such as Vitamin C, Vitamin E, flavonoids, and polyphenols.
However, natural sources in food, and making better dietary choices can provide all the antioxidants you need.
Types of Antioxidant
There are hundreds, perhaps thousands or natural antioxidants. Each type has its own role in the body and can interact with others to help the body work effectively. However, one type is not interchangeable with another. That is why it is important to have a varied diet that includes good sources of each type.
Examples of the most important antioxidants that can be supplied in foods are:
Anthocyanins
Bta-carotene
Catechins
Copper
Cryptoxanthines
Flavones
Flavonoids
Indoles
Lignans
Lutein
Lycopene
Manganese
Phytoestrogens
Phytonutrients
Polyphenols
Selenium
Sulpur
Vitamin A
Vitamin C
Vitamin E
Zeaxanthin
Zinc
Best Food Sources for Major Types of Antioxidant
Below are the best food for each of the major antioxidant types:
Anthocyanins: eggplant, grapes, berries
Beta-carotene: Brightly colored fruits and vegetables, such as carrots, mango, apricot, carrot, peas, spinach, pumpkin, spinach, parsley and mangoes
Catechins : tea and red wine
Copper: seafood, lean meat, nuts (nuts, hazelnut, etc.), legumes
Cryptoxanthines: red pepper, pumpkin, mango
Favonoids (Flavonols, Flavones, Flavanones, Anthocyanidins, Isoflavones): Leafy greens, Berries, Red Cabbage, Onions, Kale, Parsley, Tea, Red Wine, Dark Chocolate, Citrus Fruits, Onion, Apple, Soybeans.
Indoles: crucifers, including broccoli, cabbage and cauliflower
Lignans: sesame seeds, bran , whole grains, vegetables
Lutein: corn, papaya, oranges, green leafy vegetables such as spinach, arugula, watercress, etc.
Lycopene: Pink and red fruits and vegetables, including pink grapefruit, tomatoes and watermelon. When tomatoes are heat-treated, the lycopene becomes more bio-available (easier for our bodies to process and use).
Manganese: seafood, lean meat, milk, nuts, whole grains, clams, oysters, mussels, soybeans and other legumes, rice, leafy vegetables
Phytoestrogens: rice bran, wheat germ, carrots, apples, mung beans, alfalfa, rice, lentils, dried beans, barley, oats, berries, wheat, sesame seeds, linseed (flax), soy beverages, tempeh, tofu and soy beans
Phytonutrients: Orange, Red and Yellow fruit and vegetables (such as tomatoes, squash, sweet potatoes, peaches, carrots, peppers, citrus fruits, mangoes, melons and most berries). Dark green leafy vegetables (such as kale, bok choy, broccoli, spinach, Swiss chard and romaine lettuce). Also includes garlic, onions, chives and leeks.
Polyphenols: Berries, Cloves, Peppermint, Star anise, Oregano, celery seed, sage, rosemary, oregano and thyme, Cocoa Powder, Nuts, flaxseeds, artichoke, red onion, fresh spinach or shallots, olives, tea and coffee.
Selenium: seafood, offal, lean meat, whole grains, Rice, corn, wheat, and other whole grains, as well as nuts, eggs, cheese, and legumes
Sulfur: leek, onion, garlic
Vitamin A: Dairy produce, eggs, and liver
Vitamin C: Most fruits and vegetables, especially berries, kiwi, mango, broccoli, spinach, oranges, and bell peppers
Vitamin E: Nuts and seeds, sunflower and other vegetable oils, and green, leafy vegetables, avocado, oilseeds, whole grains
Zeaxanthin: Green leafy vegetables and yellow vegetables such as kale, spinach, Swiss Chard, Green pees , sweet corn, broccoli
Zinc: seafood, lean meat, milk, nuts
Foods with Best Overall Levels for a Range of Antioxidants
Certain so called 'super-foods' contain high levels of one or more antioxidants. These foods are the key one for controlling free radicals. Foods with bright and vibrant colors often contain the highest levels of antioxidants and they are good 'generalist' choices.
Note that cooking some foods can either decrease or increase effective and active antioxidant levels. For example, cooking tomatoes makes some antioxidants the contain more biologically available. However, much of the antioxidant activity of many vegetables such as peas, cauliflower and zucchini are lost in the cooking process.
This is a list of the top foods for total antioxidant level and a range of types:
Allspice
Apples
Artichoke
Basil
Beets
Black beans
Black plums
Blackberries
Blueberries
Broccoli
Cauliflower
Cherries
Chestnuts
Chocolate
Cinnamon
Cloves
Coffee
Cranberries
Dark leafy greens
Dried fruits
Gala apples
Goji berries
Granny Smith apples
Green mint
Kale
Lentils
Orange bell pepper
Oregano
Pecans
Pinto beans
Pistachios
Plums
Pomegranate
Prunes
Raspberries
Red beans
Red cabbage
Red delicious apples
Red kidney beans
Russet potatoes
Sesame seeds
Spinach
Strawberries
Sweet cherries
Tomatoes
Walnuts
Top 20 Best Foods for Antioxidants
| | | | |
| --- | --- | --- | --- |
| Rank | Food | Serving Size | Antioxidants |
| 1 | Small Red Bean | 1/2 cup dried beans | 13727 |
| 2 | Wild blueberry | 1 cup | 13427 |
| 3 | Red kidney bean | 1/2 cup dried beans | 13259 |
| 4 | Pinto bean | 1/2 cup | 11864 |
| 5 | Blueberry | 1 cup cultivated berries | 9019 |
| 6 | Cranberry | 1 cup whole berries | 8983 |
| 7 | Artichoke hearts | 1 cup cooked | 7904 |
| 8 | Blackberry | 1 cup | 7701 |
| 9 | Prune | 1/2 cup | 7291 |
| 10 | Raspberry | 1 cup | 6058 |
| 11 | Strawberry | 1 cup | 5938 |
| 12 | Red Delicious apple | 1 | 5900 |
| 13 | Granny Smith Apple | 1 | 5381 |
| 14 | Pecan | 1 ounce | 5095 |
| 15 | Sweetcherry | 1 cup | 4873 |
| 16 | Black plum | 1 | 4844 |
| 17 | Russet potato | 1 cooked | 4649 |
| 18 | Blackbean | 1/2 cup dried beans | 4181 |
| 19 | Plum | 1 | 4118 |
| 20 | Gala apple | 1 | 3903 |