Clever Ways to Celebrate Celeriac with Stellar Recipe Collection
In some ways celeriac is the ugly duckling of the vegetable world. It is far from handsome with its gnarled and nobbled bulbous root, tendrils and a tough grey skin. But, it is worth persevering and looking beyond first-look revulsion. Celeriac is easy to grow and it is surprisingly inexpensive and versatile with many uses, both raw and cooked.
Celeriac is a type of celery plant grown for its roots or bulbs rather than its leaves. Technically it is a corm, that is a swollen, semi-buried stem, rather than a root per sec, but this matters little. The bulbs (corms) are huge.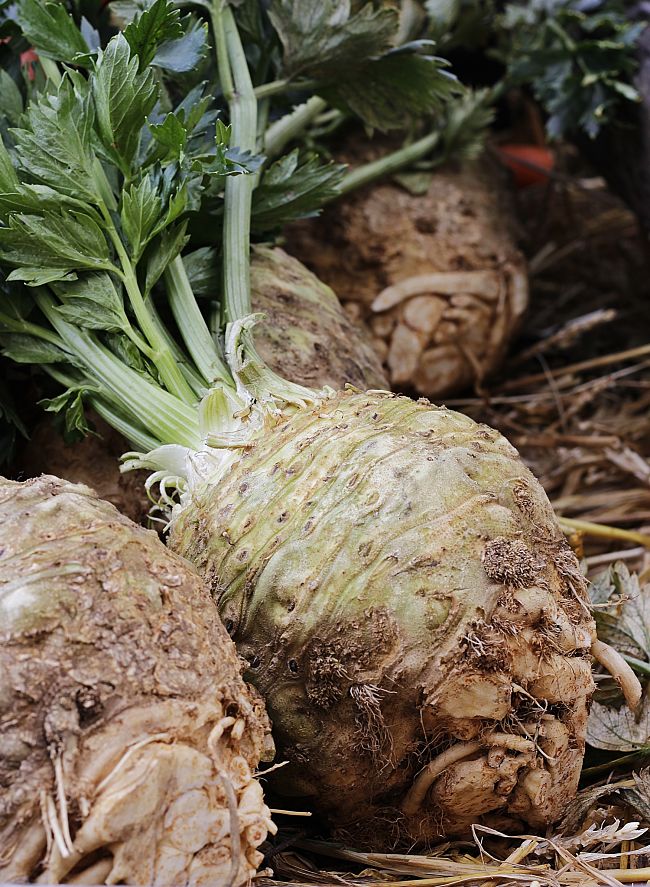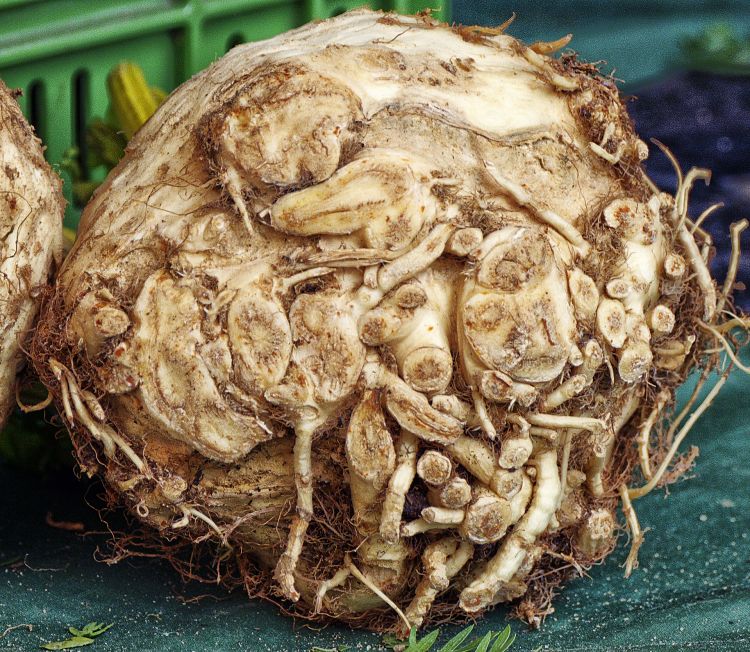 It is relatively easy to slice away the skin and tough outer layer with a sharp knife rather than a peeler. However, like many vegetables such as parsnips and even pumpkins you can bake it as is, and unpeeled. Simply rub some olive oil, herbs and salt over the washed and trimmed bulbs. Wrap them in foil and bake for about two hours in a moderate oven with other vegetables. When cooked, simply slice off the outer skin, chop or mash the inner flesh with a little butter, and enjoy as a delightful side dish.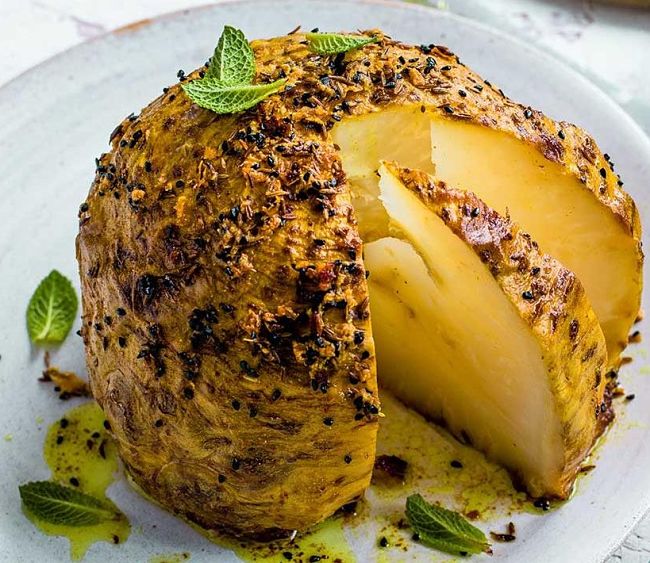 Celeriac can be eaten raw or easily prepared in a number of ways after washing and peeling. Dice the peeled celeriac into cubes and gently sauté in a little olive oil with onion, garlic, thyme and an array of herbs and greens. Such a simple dish allows the gentle flavor and texture of celeriac to shine through. The flavour of celeriac resembles mushrooms with a hint of celery, it is nutty and earthy with a delicate tough of oyster flavor. The texture is similar to potato or cooked sliced parsnips.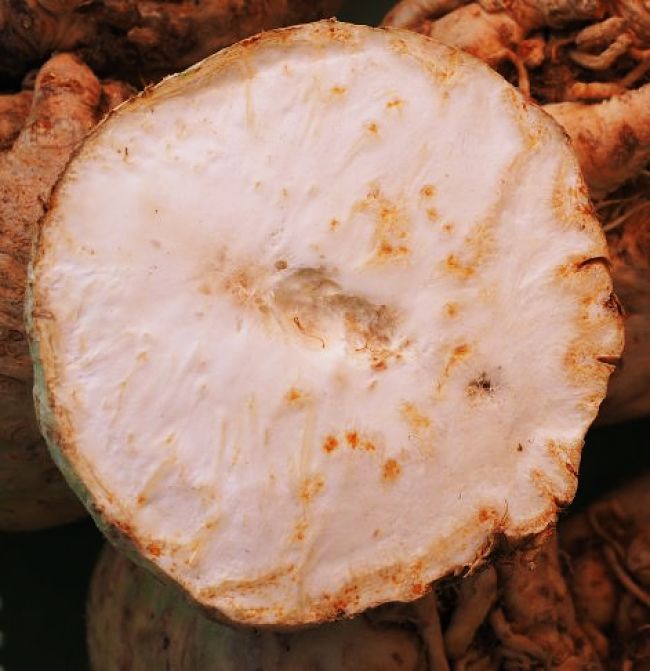 Of course, there is no need to cook celeriac at all. It is delightful when eaten raw. When raw peeled celeriac is shredded into matchsticks, it can be used to make the classic slaw known as celeriac remoulade. It can be blended with other raw vegetables and even added to salads.
A simple way to enjoy it is with the classic hasselback celeriac. To prepare this dish, thinly slicing the peeled bulbs almost all the way down to the base. Rub with chopped herbs and spices and bake it.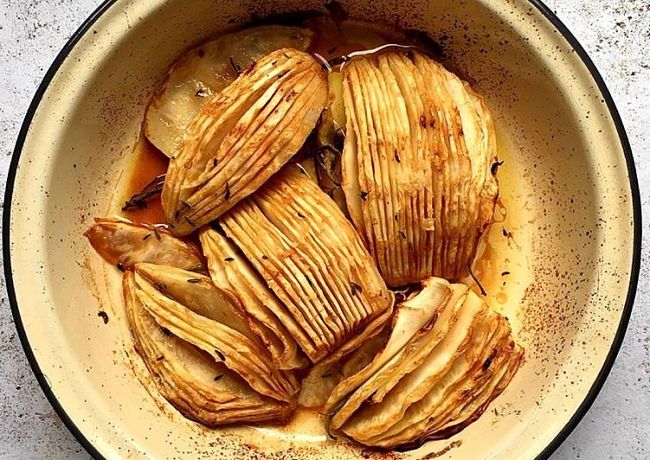 When celeriac is diced up small enough, it can even replace rice, pasta and potato with higher protein and less calories. It is a delightful ingredient in soups, combining with cheese, apple, coriander, rice, garlic, cumin, fennel, nigella and sesame seeds.
Celeriac pairs beautifully with fish and seafood in soups and chowders, or as a side dish.
Nutrition Facts
The comparative summary of nutrients for Celeriac compared with Potato and Sweet Potato shown below demonstrates that:
Celeriac has less that half the calories
Celeriac has less that one tenth of the total fat
Celeriac has less that one tenth of the total carbohydrates
Celeriac more protein that sweet potato, but less than potato
Celeriac has less fiber than both potato and sweet potato
Celeriac has almost half the sodium content
Celeriac has the highest level of calcium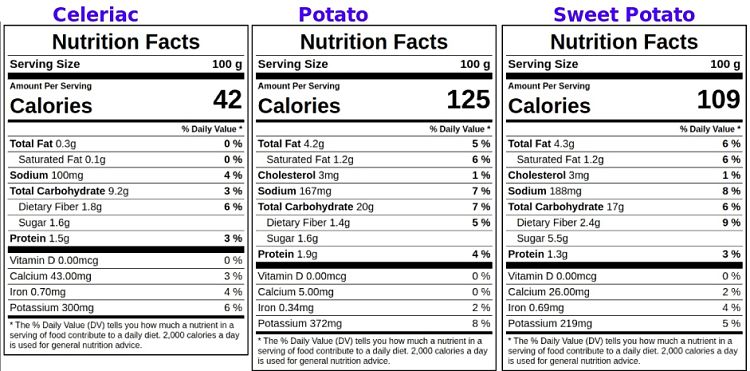 Celeriac Recipe Collection
Celeriac Salad Recipe with Chicory, Orange and Toasted Cashews
Ingredients
1 head chicory
1 large orange
Sea salt to taste
250 g (9 oz) celeriac
2 tablespoons olive oil
75 g (2.5 oz) cashew nuts
2 teaspoons cider vinegar
1/2 teaspoon English mustard
Freshly ground black pepper to taste
Method
Place the nuts into a dry frying pan and stir over moderate heat for 2-3 minutes until the nuts are lightly toasted, then set aside to cool. Add the mustard, olive oil and vinegar, seasoned with salt and freshly ground black pepper into a mixing bowl. Peel the celeriac and cut it into matchsticks. Immediately transfer the celeriac to the dressing and mix thoroughly to stop it from browning. Trim the chicory and remove the leaves. Add the chicory to the celeriac and dressing in the bowl.
Cut a slice off the base of the orange and peel it, slice or separate the orange segments. Spread the dressed celeriac and chicory onto a serving plate, season with salt and pepper to taste. Scatter over the orange segments, cashews and fresh herbs and serve.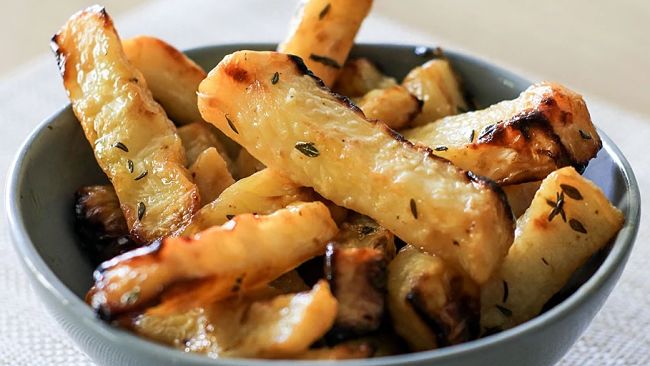 Celeriac Gratin Recipe with Potato and Pears
Ingredients
1 bay leaf
1 knob butter
Salt to taste
1/2 cup whole milk
2 firm, medium pears
400 g (14 oz) celeriac
1 2/3 cup double cream
1 teaspoon grated nutmeg
400 g (14 oz) floury potatoes
1 clove garlic, peeled and halved
Freshly ground black pepper to taste
Method
Heat your oven to 170 degrees C (335 degrees F). Grease a gratin dish all over with the butter. Wash and peel the potatoes and then slice them thinly. Peel the celeriac and slice very thinly. Peel, core and quarter the pears. Then, slice each quarter thinly along its length. Combine the potato and celeriac slices with the pear in a bowl. Mix well and season with salt and pepper. Transfer the mixture to the prepared gratin dish, pressing down the mixture to exclude many gaps and air pockets.
Place the milk and cream into a saucepan. Add the bay leaf, garlic halves, nutmeg, salt and pepper. Heat the pan until just below boiling point. Pour the pan contents over the vegetables in the dish. Remove the bay leaf.
Bake for 75-90 minutes or until the top of the gratin is gold in color and bubbling, and the vegetables are cooked through. Increase the oven temperature to 190 degrees C (375 degrees F) for the last 5-8 minutes of the cooking time to increase the crispness of the top layer. Set aside to rest and cool for about 5-8 minutes before serving with fresh herb, green and you favorite sauce.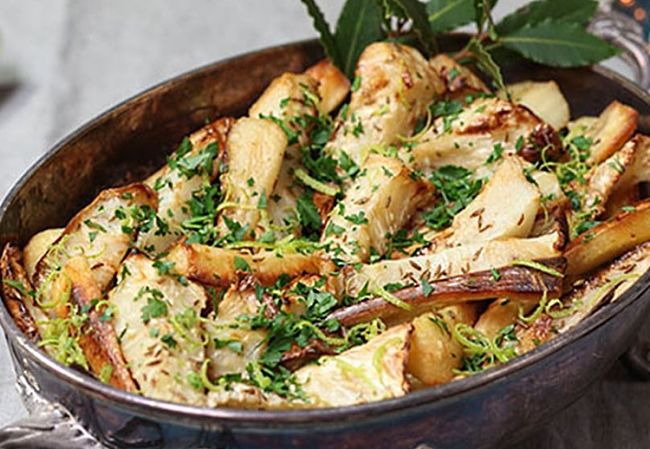 Ultra Simple Celeriac Recipe
Ingredients
sea salt
olive oil
1 kg (500 g) celeriac
a few sprigs fresh lemon thyme
Method
Cut off the celeriac ends and peel away the outside skin. Then, slice the celeriac up into slices, then into 1 cm (1/2 inch) cubes.
Heat a tablespoon of olive oil in a deep heavy pan or Dutch oven over moderate to high heat. Add the lemon thyme leaves followed by diced celeriac, and season with freshly ground black pepper, your choice of spices, and plenty of salt. Lower the heat to moderate, cover the pan with a lid and cook while stirring frequently for 20-25 minutes, or until tender. Serve as a side dish with fresh herbs.
Celeriac and Potato Soup with Cheddar Cheese and Sage
Ingredients
4 fresh sage leaves
2 strips lemon peel
1 tablespoons butter
3 onions, finely sliced
200 g (7 oz) mature cheddar , diced
2 celeriac (1 kg; 2 lbs) peeled and diced
crispy sage leaves, for serving (optional)
1 litre (1 quart) chicken or vegetable stock
500 g (1 pound) floury potatoes, peeled and diced
Method
Melt the tablespoons of butter in a heavy, deep frying pan or Dutch oven. Add the onions and fry for 5-8 minutes until softened, but not browned. Add the celeriac, potato, stock, 4 sage leaves and 2 strips of lemon peel. Bring to the boil and then lower the heat to a simmer and cook for about 25-30 minutes, until the celeriac and potato have started to soften a little. Then, when cooked remove and discard the sage leaves and lemon zest. Stir to thicken the soup. To serve, add the cheese and fresh herbs. Serve with crisp sage leaves and slices of crusty bread.
Celeriac Soup with Herbs, Apples, Spices and Mixed Nut Sprinkles
Ingredients
Salt to taste
1 tablespoon of butter
1 tablespoon of olive oil
4 sprigs thyme, leaves picked
1 leek, trimmed and finely sliced
4 apples, cored and roughly chopped
Freshly ground black pepper to taste
1 celeriac, peeled and roughly chopped
1.5 litres (1.5 quarts) vegetable stock
1 × 400 g (14 oz) tin butter beans, drained
For Serving
Yoghurt, to serve
50 g (2 oz) butter
1/2 teaspoon turmeric
1 teaspoon cumin seeds
1/2 teaspoon fennel seeds
1 tablespoons sesame seeds
1 teaspoon coriander seeds
Parathas or naan, to serve
1/2 tablespoon nigella seeds
1/2 teaspoon flaked sea salt
Sage and thyme, crisped in butter
2 tablespoons mixed nuts, roughly chopped (macadamias, hazelnuts, almonds, cashew
Method
Heat a tablespoon of oil and a knob of butter in a deep, large, heavy pan or Dutch oven. Fry the leek over moderate heat for 10-12 minutes, until soft. Add the apples, celeriac and thyme, and fry for 2-3 minutes. Then, add the stock and butter beans, season well and simmer over low heat for 20-30 minutes, or until the celeriac is just tender. Then, remove from the heat and blitz until smooth with a hand blender. Keep the soup warm.
Next, toast the sesame seeds and nuts in a dry frying pan until light brown in color. Then, remove from the pan and set aside. Add the spices to the dry pan and fry while shaking, for 2-3 minutes, until fragrant. Crush the spices briefly in a mortar and pestle. Then add the nuts, flaked sea salt and sesame seeds. Transfer the nut and spice mix from the pan to a small bowl and set aside.
Next, add the butter to the empty pan and heat over moderate heat until bubbling. Add the herbs and cook until crisp, then transfer to a bowl for serving. Serve by ladling the soup into bowls and topping with a swirl of yoghurt, a sprinkle of the spice mix, a drizzle of the herbs butter mixture. Serve with paratha or naan and fresh herbs and greens.
Celeriac Soup with Garlic, Rice and Charred Lemon Salsa
Ingredients
Salt to taste
3 cinnamon sticks
2 cups vegetable stock
80 g (3 oz) short-grain rice
1 1/2 teaspoons dried oregano
1 onion, peeled and finely chopped
Freshly ground black pepper to taste
1/2 cup parsley leaves, roughly chopped
1/2 teaspoons chilli flakes (optional)s)
3 spring onions, trimmed and thinly sliced
4 whole heads garlic peeled and thinly sliced
2 lemons – 1 cut into rounds, the other juiced
1/2 cup extra virgin olive oil, plus extra for drizzling
800 g (28 oz) medium celeriac, peeled and cut into small cubes
Method
Pre-heat your oven to 240 degrees C (465 degrees F/). Drizzle the garlic heads with some oil, season with salt and pepper. Then, wrap the heads in foil and bake for 25-30 minutes, until light brown in color and softened. Cool and use a sharp knife to separate the cloves, and set aside.
Next, place 2 tablespoons of oil in a large pan over moderate to high heat. Once the oil is hot, add the celeriac, onion and cinnamon, and fry, stirring frequently, for 8-10 minutes, until lightly coloured and softened. Add the oregano and rice, mix well to coat. Then pour in the stock, 4 cups of water, 1 teaspoon of salt and pepper. Bring to a boil, then lower the heat to low and simmer gently for 60-75 minutes stirring occasionally, or until the rice has softened. Transfer about half of the mixture to a blender bowl, add the roast garlic and lemon juice, and pulse until stating the get smooth. Pour this liquid back into the soup pot and keep warm after removing the cinnamon sticks.
Heat a large, deep frying pan or Dutch oven over high heat. Add the lemon rounds to the pan and fry for 2-3 minutes on each side, or until starting to char on the outside. Chop the charred lemon when cooked, and then transfer to a bowl with the spring onion and parsley. Next, heat the rest of the oil in small frying pan over moderate heat and fry the sliced garlic until soft and brown (8-10 minutes). Then, add the chilli flakes and cook for an extra minute or two. Sieve the liquid through a sieve, discarding the solids and adding the liquid to the lemon and herb mixture.
Divide the soup between four bowls. Add a drizzle of the lemon and herb dressing to each bowl. Serve hot with a sprinkling of fried garlic and chilli.
Classic Celeriac Remoulade Recipe
Ingredients
Salt to taste
1 small lemon.
Freshly ground black pepper
2 tablespoons of chopped parsley
1 medium-sized celeriac (500 g; 1 lb)
2 tablespoons of smooth Dijon mustard
4 heaped tablespoons of good mayonnaise
2 tablespoons of double cream or crème fraîche
Method
Peel and then shred celeriac into strings thinner than a matchstick. Immediately toss them in the juice of half a lemon to stop them going brown and to tenderize them. Mix together the other ingredients. Season with salt and black pepper, Fold the dressing through the shredded celeriac. The dressing should be just thick enough to cling to the celeriac strips. Set aside for 30 minutes then serve as a salad side dish with thin slices of ham.
Celeriac Rösti with a Caper and Celery Salsa
Ingredients
Salt to taste
1 tablespoon lemon juice
2 free range eggs, beaten
Vegetable oil, for frying
2 1/2 tablespoons plain flour
1 garlic clove, peeled and crushed
Freshly ground black pepper to taste
100 g (3.5 oz) soured cream, to serve
1 small potato, peeled and coarsely grated
1 banana shallot, peeled and thinly sliced
1/2 teaspoon celery seeds, toasted and finely crushed
1/2 teaspoon caraway seeds, toasted and finely crushed
1/2 teaspoon coriander seeds, toasted and finely crushed
1 celeriac, (about 500 g; 1 lb) peeled and coarsely grated or sliced into strips
For the salsa
1 1/2 tablespoons olive oil
2 celery sticks, finely chopped
10 g (1/3 oz) parsley, finely chopped
15 g (1/2 oz) capers, roughly chopped
2 small lemons, 1 for zest and 2 for juice
10 g (1/3 oz) basil leaves, finely shredded
1/2 small shallot, peeled and very finely chopped
Method
Combine the potato, shallot, celeriac, 2 teaspoons of salt and lemon juice in a medium-size bowl. Then, transfer to a sieve lined with a clean tea towel or cheesecloth. Place the sieve over a bowl and set aside for 30 minutes, to drain the liquid. Next, draw together the edges of the towel, then squeeze it several times, to remove of as much water as possible. Transfer to a clean bowl. Add the spices, eggs, garlic and flour. Using your hands combine the mixture well, and shape the mixture into ten patties about 6 cm (3 inches) wide. Squeeze the rösti patties as you make them, to remove any remaining liquid.
Add all the salsa ingredients to a separate bowl, season with salt and pepper and mix to combine well, and set aside
Deep fry the rösti in batches in hot oil for 7-9 minutes, turning them several times, or until golden-brown all over and crisp. Transfer to a plate lined with kitchen towel. Keep warm in the oven while you cook the rest of the rösti. Serve warm or hot with the salsa, fresh herbs and a dollop of soured cream.
Celeriac Gnocchi with Bone Marrow and Parsley Sauce
Ingredients
1 free range egg yolk
1/4 teaspoon celery seeds
2 cup good quality beef stock
Salt and black pepper to taste
120 g (4 oz) plain flour, sifted
40 g P (1.5 oz) Parmesan, finely grated
1 large celeriac, peeled and cut into small cubes
For the bone marrow
1/4 garlic clove, peeled and finely grated
2 tablespoons parsley leaves, finely chopped
700 g (24 oz) bone marrow, lengths of bone sliced length-ways in half ( ask the butcher to do this)
Method
Heat your oven to 200 degrees C (390 degrees F). Place the celeriac in a moderate size pot. Add enough boiling water to cover, and then simmer slowly for 15 minutes, until the celeriac is very soft. Drain, and use a food processor to make a very smooth mash. Transfer this to a sieve lined with cheesecloth or a clean dry tea towel. Draw in the sides of the towel to make a ball. Squeeze and wring the cloth ball several times, to squeeze out as much of the liquid as possible. Set aside to drain for 30-40 minutes.
Next, position the marrow bones cut side up on a greased and lined oven tray. Season with a pinch of salt and pepper. Roast the bones in the oven until the marrow is soft and bubbling around the edges (15-30 minutes. Scrape the marrow from the bones into a small bowl. Then, drain off any fat, mash the marrow, and set aside.
Transfer the mashed celeriac to a medium bowl, and combine with the egg yolk, three-quarters of the Parmesan, celery seeds, and half a teaspoon of salt and pepper.
Scatter 100 g (3.5 oz) of flour on to a clean, dry work surface. Spoon the celeriac mash over the flour and combine into a dough. Cut the dough into 8 equal pieces and roll out into 'ropes' about 2 cm (3/4 inch) thick. Cut these into 2.5 cm (1 inch) long gnocchi. Then, roll each one lightly in flour, and set aside on a tray lined with grease-proof paper.
Next, fill a moderate size pot with the beef stock, 2 cups of water and a teaspoon of salt. Bring the pot to the boil, and drop the gnocchi into the water in small batches. Cook for 2-4 minutes, or until they all float to the top. Lift out the cooked gnocchi with a slotted spoon and drizzle with olive oil to stop them sticking together.
Heat a large, deep nonstick frying pan or Dutch oven on a moderate-high heat. Saute the garlic and bone marrow for 1-2 minutes. Then, add the gnocchi, parsley and a pinch of salt. Scatter remaining Parmesan cheese on top with a generous pinch of freshly ground black pepper. Toss to combine well and serve hot with fresh herbs and greens.
Hasselback celeriac Recipe with Miso and Tahini
Ingredients
For the Celeriac
3-4 tablespoons olive oil
1 large or 2 small celeriac, about 1.2 kg (750 g) in total
For the Miso Glaze
80 g (3 oz) white miso
1 1/2 tablespoons lemon juice
1/2 tablespoons aleppo pepper or equivalent
2 1/2 tablespoons brown rice syrup (or equivalent)
For the Tahini Sauce
1/2 teaspoons salt
100 g (3.5 oz) tahini
1 tablespoon lemon juice
For the Salad
1 teaspoon sumac
1/4 teaspoons salt
3 tablespoons olive oil
1 tablespoon lemon juice
1 tablespoon pomegranate molasses
1 cup roughly chopped flat-leaf parsley
1 red onion, peeled and cut into thin half-moons
Method
Pre-heat your oven to 200 degrees C (390 degrees F). Chop the base and top of the celeriac and peel it. Drizzle oil all over the celeriac, rubbing it in. Then, sprinkle with salt and place on a nonstick baking tray. Roast for 50 minutes, remove from the oven, baste with a little more oil and roast for an additional 50 minutes, until golden brown in color.
While the celeriac is baking, make the tahini sauce, miso glaze and the onion salad, by combining all the ingredients for each item in a small bowl. Once the celeriac is cooked, remove the baking pan from the oven. Carefully brush the celeriac all over with the glaze and then bake for an additional 15-18 minutes.
Serve the whole celeriac on plate with the tahini sauce, pomegranate salad, fresh herbs and greens, and crusty bread as side dishes.
Fried Celeriac Slices with Sherry, Lardons and Capers
Ingredients
Salt to taste
3/4 cup sherry
30 g (1 oz) butter
2 tablespoons capers
Black pepper to taste
50 g (1 3/4 oz)raisins
3 tablespoons olive oil
3 tablespoons sherry vinegar
1 cup chopped oregano or thyme
2 large garlic cloves, peeled and crushed
100 g (3 oz) lardons or diced streaky bacon
2 medium red onions, peeled and finely diced
1 cup very finely chopped curly parsley, to serve
1 medium celeriac, peeled and cut into four thick slices
Method
Bring a medium-size pan of salted water to the boil. Add the celeriac slices and simmer gently for 15-20 minutes, until just soft. Remove the celeriac and set aside to cool. Meanwhile, melt the butter in a large, deep frying pan or Dutch oven moderate heat. Add half the oil and fry the onion for 10-12 minutes until translucent. Season generously with salt and pepper. Increase the heat setting, add the garlic, raisins, oregano and lardons, and saute, stirring frequently, for 5-6 minutes. Once the lardons are golden brown in color, add the capers, sherry, vinegar and 1/2 cup of water. Simmer gently for several minutes.
Wipe out the frying pan and re-heat to moderate-high. Add half the remaining oil and fry the celeriac slices in 2-3 batches, until golden brown in color (1-3 minutes per side). Serve the steaks sprinkled with the sherry, and with the lardons and parsley sprinkled on top.