Food-Borne Illness and Food Poisoning – Which Foods are the Worst?
There have been a series of health scares, deaths, and hospitalization linked with pathogens, contamination and illnesses derived from foods of various types, throughout the world. Regular recalls of foods of various types occurs because of the risk of illness with certain items of food.
Also cases of food poisoning and stomach upsets are relatively common. Most people believe that the most risky foods are eggs, chicken, pork and processed meats. Seafood and some dairy products tend to spoil quickly and may not be very fresh when you buy it. Raw milk is known to be risky.
But what are the most dangerous foods? Recent surveys and have produced some results that will surprise and even shock you.
Around the world various health departments collect data and report food-borne disease outbreaks to various authorities that compile the data that is available in summary reports for various types of food and diseases.
A recent Emerging Infectious Diseases study estimates that 1,451 people died from 1998 to 2008 in outbreaks of food-borne illness in America. Each year, more that 9 million food-borne illnesses are attributed to major pathogens acquired via food in the United States.
While high, these infection rates are very low compared with the number of meals eaten each year.
Nevertheless identifying likely sources of pathogens in food is a very important part of reducing the risk, because food recalls only occur after someone is infected and the source has been identified.
This article provides a review of these data to identify the types of food that represent the greatest risk.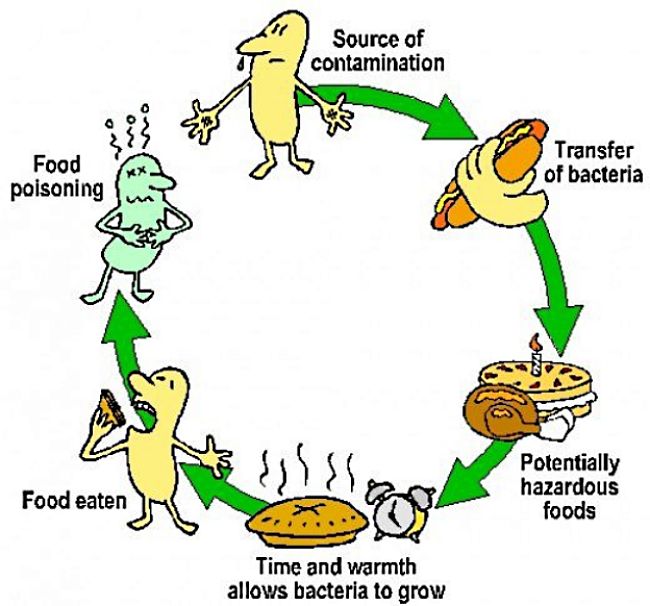 Surprise, Surprise
The most common cause of food-borne illness is not meat, eggs or dairy products but leafy vegetables like lettuce, rocket and spinach according to the latest study. However, the most serious of the illnesses, and death are caused by contaminated poultry.
Deaths from Food-borne Illnesses - Worst Foods
The statistics show that an estimated 1,451 people died from 1998 to 2008 due to food-borne illness in America. The percentage linked to various food types were:
Meat and poultry about 30%
Dairy products and Eggs about 15%
Fish and Seafood about 15%
Vegetables about 15%
Undetermined 25%

The details are shown in the table below
Types of Foods Causing the Most Illnesses
The tables below summarizes the percentage of illnesses caused by various food types. The worst ones were:
Leafy Vegetables 22%
Dairy 14%
Fruits-Nuts 12%
Poultry 10%
Vines 8%
Beef 7%
Eggs 6%
Pork 5%
More than half of all the food-borne illnesses investigated in the survey were linked with by plant foods, such as leafy vegetables, vines, fruit and nuts, which together caused illnesses in over four million people. Leafy vegetables such as spinach and lettuce, were the worst, causing illnesses in about million people. Despite their bad reputation shellfish wee linked with only 330,981 illnesses, representing 7 % of the illnesses and eggs 6% and poultry 10%.
Sources of Food Contamination and Common Agents
Most food is contaminated during the preparation of the food for sale by the food preparer or the water and other substances used during the preparation. The agents causing food-borne illnesses are shown in the table below. The most common agents were:

Bacteria 54%
Clostridium 10%
E. coli 5%
Salmonella 19%
Chemical and Toxins 14%

Viral 32%
Food related illnesses come largely from a norovirus or salmonella infection of the food preparer. Poultry, dairy and processed meat is often contaminated with listeria and salmonella.

The contamination of food can occur at various point during its production. It can occur on the raw product when it is harvested, but mostly occurs during preparation of processing of the food for sale. Contamination points for infection include
growing
harvesting
processing - including washing with contaminated water
storing
shipping
food-preparation
food warming serving trays and bowls
Cross-contamination is a major source or contamination that most people are aware of in the home. This involves the transfer of pathogens from raw food to cooked food, especially when the cooked food is raw or is kept warm for long periods of time before serving. This can also occur in commercial food preparation areas particularly from contaminated surfaces, food processing and cooking implements.
Why are Leafy Vegetables, Fruit and Nuts So Vulnerable
The obvious reason is that raw, ready-to-eat foods, such as fruit, vegetables and salads and other produce including meats, fish and seafood, eaten raw are not cooked, which would kill most pathogens.
Incubation Times for Common Agents Responsible for Food-borne Illnesses
One of the problems with identifying the cause of illness related to food is that it can take up to five days before the symptoms of the disease appear. Details about the most common agents of infection, the foods in which they occur and their incubation times are shown in the table below.
Some of the agents with the longest incubation times are:
Campylobacter 2 - 5 days
Clostridium botulinum 12 - 72 hours
Escherichia coli 1 - 8 days
Giardia lamblia 1 - 2 weeks
Hepatitis A 28 days
Listeria 9 - 48 hours
Noroviruses 12 - 48 hours
Rotavirus 1 - 3 days
Salmonella 1 - 3 days
Staphylococcus aureus 1- 6 hours
Vibrio vulnificus 1 to 7 days
Conclusion
Food-borne illnesses are a growing problem that consumers need to be aware of and take the precautions to reduce the risks. This particularly applies to any raw foods. It pays to buy vegetables and fruit from reputable suppliers. Unfortunately the risks apply equally to organically grown produce.
Worst Foods for Deaths and Illnesses Caused by Food-borne Diseases
| Food | DEATHS | Food | All illnesses |
| --- | --- | --- | --- |
| Undetermined | 25.2 | Leafy Vegetables | 22.3 |
| Poultry | 19.1 | Dairy | 13.8 |
| Dairy | 9.7 | Fruits-Nuts | 11.7 |
| Vine | 7 | Poultry | 9.8 |
| Fruits-Nuts | 6.4 | Vine | 7.9 |
| Leafy | 6 | Beef | 6.6 |
| Pork | 5.7 | Eggs | 6 |
| Fish | 4.9 | Pork | 5.4 |
| Eggs | 4.9 | Grains-Beans | 4.5 |
| Beef | 3.8 | Root | 3.6 |
| Sprout | 1.9 | Mollusk | 3 |
| Grains-Beans | 1.9 | Fish | 2.7 |
| Root | 1.4 | Undetermined | 1.1 |
| Mollusk | 1.4 | Oils-Sugars | 0.7 |
| Game | 0.2 | Crustacean | 0.5 |
| Oils-Sugars | 0.2 | Sprout | 0.3 |
| Crustacean | 0.2 | Game | 0.1 |
| Fungi | 0.1 | Fungi | 0.1 |
Agent Causing Food-borne Illnesses by Food Type
| AGENT | BACTERIAL | | | | TOXINS | VIRUSES | |
| --- | --- | --- | --- | --- | --- | --- | --- |
| | TOTAL | Clost | E. coli | Salm | | TOTAL | Norovirus |
| TOTAL | 2,469 | 461 | 206 | 877 | 632 | 1,455 | 1419 |
| Fish | 81 | 6 | 2 | 28 | 526 | 49 | 46 |
| Crustacean | 97 | 9 | 3 | 26 | 8 | 43 | 41 |
| Mollusk | 85 | 4 | 1 | 9 | 14 | 69 | 67 |
| Dairy | 596 | 93 | 28 | 210 | 32 | 552 | 545 |
| Eggs | 586 | 44 | 23 | 324 | 21 | 518 | 510 |
| Beef | 593 | 199 | 109 | 128 | 7 | 250 | 247 |
| Game | 120 | 22 | 7 | 38 | 5 | 104 | 104 |
| Pork | 413 | 98 | 12 | 115 | 5 | 221 | 219 |
| Poultry | 713 | 173 | 11 | 271 | 10 | 326 | 321 |
| Grains Beans | 742 | 157 | 43 | 211 | 32 | 527 | 522 |
| Oils Sugars | 361 | 55 | 15 | 114 | 29 | 491 | 483 |
| Fruits Nuts | 207 | 21 | 22 | 103 | 22 | 286 | 278 |
| Fungi | 29 | 6 | 1 | 11 | 18 | 83 | 78 |
| Leafy Veg. | 501 | 64 | 67 | 160 | 31 | 741 | 722 |
| Root Veg. | 554 | 111 | 26 | 169 | 34 | 540 | 528 |
| Sprouts | 45 | 1 | 8 | 29 | 3 | 69 | 64 |
| Vine Stalks | 492 | 102 | 39 | 160 | 19 | 536 | 525 |
Agents Causing Food-borne Diseases and Their Incubation Times
| Contaminant | Delay before symptoms appear | Foods affected and how food gets contaminated |
| --- | --- | --- |
| Campylobacter | 2 - 5 days | Meat and poultry - Contaminated during processing from animal feces and raw meat fluids transferred to processing surfaces and cooked meats. Other sources include contaminated water and unpasteurized milk and. |
| Clostridium botulinum | 12 - 72 hours | Home-canned and preserved foods, and also jams and sauces with low acidity. Rarely occurs in improperly canned commercial food products, salted and smoked fish and other seafoos. It can also occur in foods kept at warm temperatures for too long and to potatoes baked in aluminum foil that are not served immediatelty. |
| Clostridium perfringens | 8 - 16 hours | Meats, stews and gravies. Usually occurs when serving dishes do not have a high temperature and food is kept warm for too long. Can also occur when food is chilled too slowly. |
| Escherichia coli | 1 - 8 days | Beef contaminated with feces or other waste products during slaughter. Common in undercooked ground beef and processed meats that are not cooked. Other sources include apple cider, alfalfa sprouts, unpasteurized milk and vegetables washed in contaminated water. |
| Giardia lamblia | 1 - 2 weeks | Common in raw, ready-to-eat produce of all types and contaminated water. Contamination can be spread by a food handler who is infected or who has poor hygiene. |
| Hepatitis A | 28 days | Common in raw, ready-to-eat foods, shellfish and from contaminated water. Contamination can be spread by a food handler who is infected or who has poor hygiene. |
| Listeria | 9 - 48 hours | Processed meats such as hot dogs, luncheon meats, and also unpasteurized milk and various types of cheese. It can also occur in unwashed raw produce when the soil or water contaminated. |
| Noroviruses | 12 - 48 hours | Common in raw, ready-to-eat foods, shellfish and vegetables, watered, washed or prepared using contaminated water. Contamination can be spread by food handlers and contaminated water and working surfaces. |
| Rotavirus | 1 - 3 days | Raw, ready-to-eat produce. Can be spread by an infected food handler. |
| Salmonella | 1 - 3 days | Raw or contaminated meat, poultry, milk or egg yolks. Survives inadequate cooking. Can be spread by knives, cutting surfaces or an infected food handler. |
| Shigella | 24 to 48 hours | Seafood, fish, shellfish and ready-to-eat raw produce. An infected food handler and spread the contamination. |
| Staphylococcus aureus | 1- 6 hours | Meats, cream sauces, prepared salads and cream-filled pastries. Can be spread by hand contact when food handlers touch their noses and mouth or by sneezing and coughing. |
| Vibrio vulnificus | 1 to 7 days | Raw oysters, mussels, clams and whole scallops and such produce that is not coked properly. An infected food handler and spread the contamination. |