How to Make XO Sauce, Uses, Stellar Recipe Collection
According to one story XO sauce was first developed in the 1980's by a chef at the Peninsula Hotel in Hong Kong who decided to make a unique high quality sauce from expensive dried scallops and shrimps, Chinese preserved pork, salty Jinhua ham, chilli, spices, bottled sauces and a variety of other ingredients. Various chefs all over the world reverse-engineered the sauce recipe for their own kitchens and some to sell to their customers. There are many versions, but dried scallops and shrimp are the key ingredient for this delightful, powerful umami-rich sauces that has many uses. XO sauce is quite special with its slightly chewy and somewhat crunchy texture, and hot chilli taste and rich intriguing aroma.
A dash of stellar XO sauce adds textures and multiple layers and complexity and depth of flavor to meat and seafood dishes and also to vegetables ansd mixed stir-fry dishes. Having some noodles, spinach or crunchy vermicelli in the dish to soaks up the sauce and showcases the flavor and aroma. Making your own XO sauce is not difficult. but it does take a little time and you may have to search for specialist to find Asian grocers or online stores for many of the key ingredients. However, you can use many substitutes which work well and may better suit your taste preferences.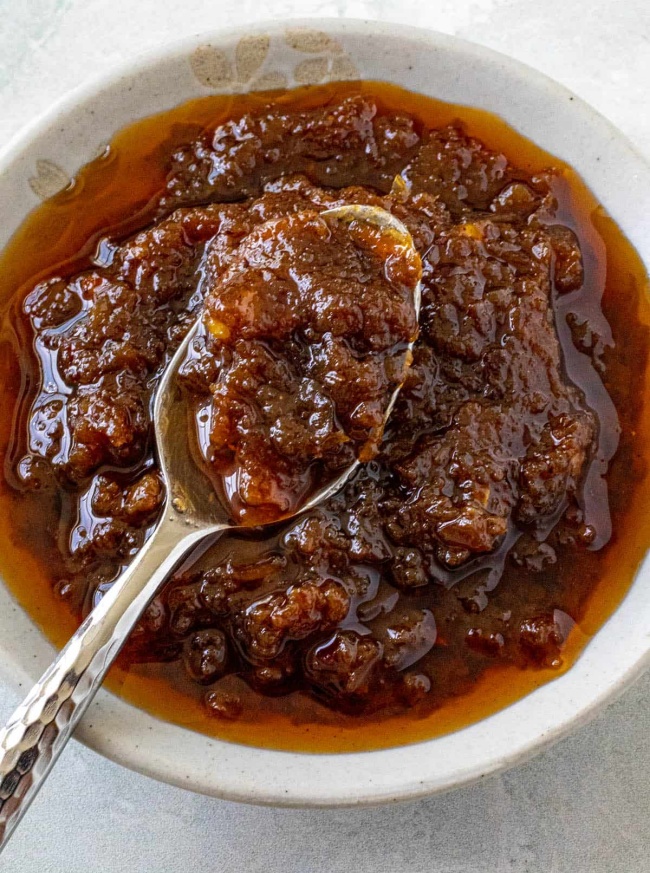 XO Sauce Recipe 1
Ingredients
Boiling water
2 cups chicken stock
7 cups rice bran oil
2 tablespoons brown sugar
1/2 cup dried chili flakes
300 g (12 oz) dried scallops
3 heads garlic (finely minced)
14 large shallots (finely diced)
1/4 cup fish sauce (high quality)
8 tablespoons Shaoxing wine (divided)
2 tablespoons dark mushroom soy sauce
10 fresh red chili peppers (seeded and finely diced)
200 g (7 oz) Jinhua ham (or other cured ham or picked pork)
300 g (12 oz) dried shrimp (larger ones, not the tiny one with fine "feathery" texture)
Method
Place the scallops and dried shrimp into two separate large bowls. Add about 1 tablespoon of Shaoxing wine to each bowl. Then, add enough boiling water to barely submerge the seafood in each bowl. Soak the shrimp and scallops for 2-6 hours to revitalize. Next, thinly slice the shallots by hand, and then pulse into a fine dice in a food processor or blender. Add the whole garlic cloves and pulse until just minced, and set aside. De-seed and finely dice the chili peppers and set aside.
When the scallops and shrimp have fully soaked, drain them, retaining the liquid. Next steam the scallops and the ham in heatproof bowls for about 15 minutes and then let cool. Shred the scallops into threads using your fingers or a fork. Then, use a food processor, to pulse the scallops about 6-8 times, in three batches, until they form short, fine threads. Then, pulse the shrimp about 7-9 times, or until they form a coarse crumb like texture. Mince the ham by hand and set aside
Next, mix the liquid retained from steaming, with 2 tablespoons brown sugar and 1 3/4 cups chicken stock, and set aside.
Next, heat 7 cups of oil to 225 degrees F (107 degrees C) in a large wok or Dutch Oven over moderate to high heat. Add all of the scallops and fry for about 5-7 minutes. Then, add the shrimp and keep frying the mixture for 15-17 minutes. Next, add the ham and fry for an extra 2-3 minutes. Then, add the chopped chili peppers and cook for an extra 3-4 minutes. Then, turn off the heat, and strain the seafood into a second large skillet or wok, retaining the oil in the first wok. Reheat the oil in the first wok to 225 degrees F (107 degrees C). Add the shallots, and fry for about 10-12 minutes, until they are golden brown but not crispy. Then, heat your second wok which contains the ham and seafood, over moderate to high heat. Add 2 tablespoons of dark mushroom soy sauce, 6-8 tablespoons of Shaoxing wine, and the sugar/chicken stock mixture that was prepared earlier. Stir to mix well, and simmer to allow the liquid to evaporate off. Then, add the garlic to the shallots and cook for 10-12 minutes, until the garlic is golden brown in color and has become crisp. Combine both mixtures into one wok when both have lost most of their liquid. Add the chili flakes and fish sauce stirring to combine and render down. Transfer the completed XO sauce to clean, sterile containers. Allow to cool down before refrigerating.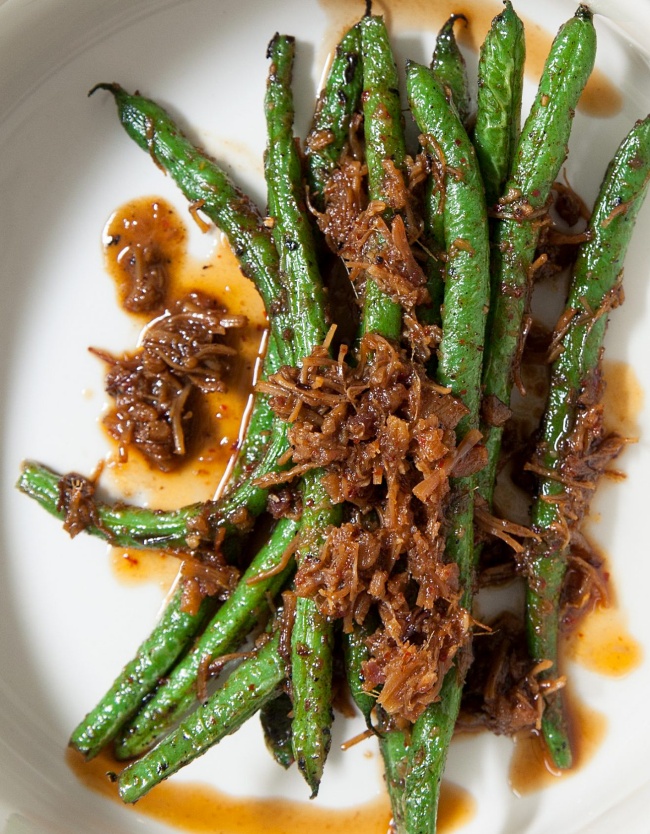 XO Sauce Recipe 2
Ingredients
2 oz (55 g) dried shrimp
1 tablespoon brown sugar
2 oz (55 g) dried scallops
1 teaspoon chicken powder
2 large shallots, finely chopped
8 cloves garlic, finely chopped
1 and 1/2 tablespoon oyster sauce
1-2 tablespoons Chinese chili flakes
1 and 1/4 cups rice bran or grape seed oil
1 cup + 2 tablespoons Shaoxing wine (or dry sherry)
2 Thai bird's eye chilis, minced (or similar fresh hot chillies)
1.5 oz (42 g) dry cured ham, minced (linhua or Yunnan style, or otherwise prosciutto)
Method
Place the scallops and shrimp in a sieve and rinse them well with running water. Place the rinsed scallops and shrimp in separate heatproof bowls. Add one tablespoon of Shaoxing wine and 1/2 cup boiling water to each bowl. Let the scallops and shrimp soak for at least 4 hours to rejuvenate or leave overnight in your refrigerator. Next drain the soaked seafood, reserving the soaking liquid. Trim the hard foot muscle on the side of the scallops. Next shred the scallops and shrimp using a small food processor or blender, only until the scallops are just shredded and the shrimp are coarsely minced.
Next, cook the aromatics by heating the oil in a Dutch oven, or deep heavy pan, over moderate heat to a temperature of 200 to 250 degrees F (94 to 120 degrees C). Add the garlic and shallots and fry, stirring frequently, until they just start to brown, about 10-12 minutes. Next, add the minced chillies and fry for an extra 5 minutes, or until the aromatics are golden brown in color and crisp. Then, strain the aromatics using a sieve, pour the oil back into the pot. Reheat the oil to the same temperature. Add the shredded scallops and fry stirring continuously, for about 10-12 minutes, until they just start to turn brown. Then, add the minced ham and fry for an extra 10 extra minutes. 9. Return the fried aromatics to the pot and combine all the cooked ingredients together.
Next, pour in the Shaoxing wine, 2 tablespoons of the shrimp soaking liquid. Add the chicken powder, sugar, oyster sauce and chili flakes. Cook for another 5 minutes, or until the ingredients become a rich dark brown color and the scallops have withered. Remove the skillet from the stove, allow to cook and transfer to storage containers. You can store the XO sauce in an airtight container or a jar in the fridge for about 4 weeks, or about 3 months in the freezer.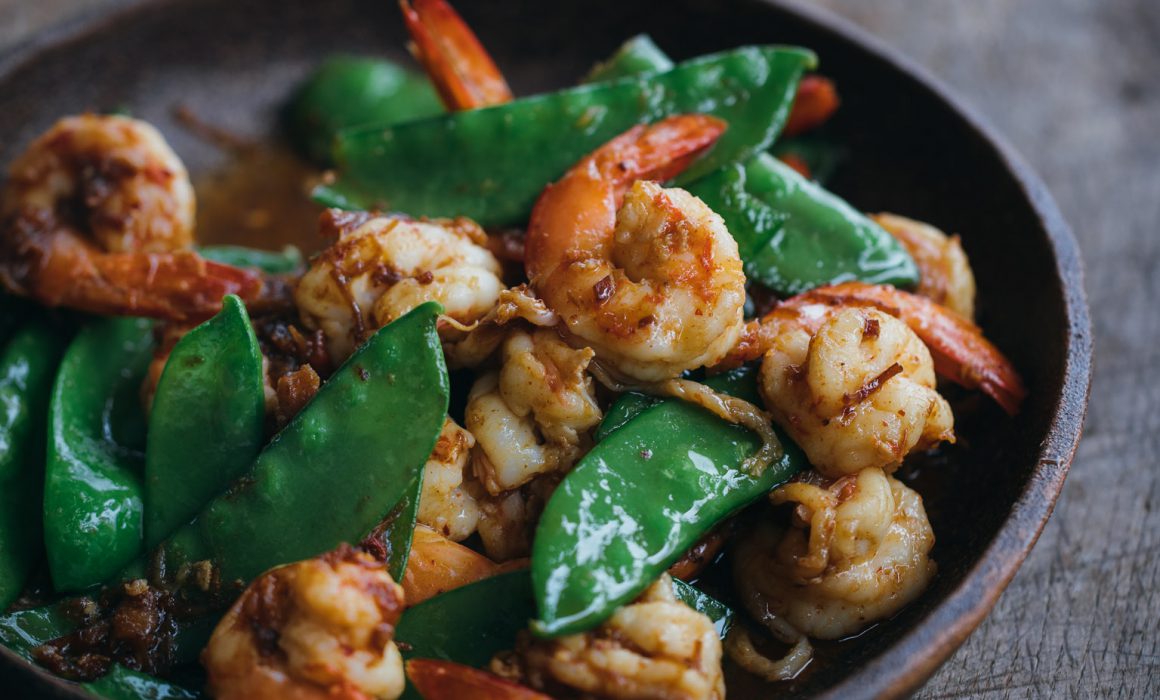 How to Make XO Sauce at Home, Recipe 3
Ingredients
1 tablespoon dark brown sugar
2 shallots, peeled and chopped
2 oz (60 g) bacon, finely chopped
2 garlic cloves, peeled and chopped
3 oz (90 g) dried scallops (large size)
3 oz (90 g) medium size dried shrimp (not tiny ones)
3 tablespoons rice bran or grape seed oil (neutral tasting)
2 small jalapeño or Fresno chillies (or similar), roughly chopped
30 dried red chillies, like Japones, Tien Tsin (tough stems removed, roughly chopped)
Method
Steam the dried scallops over moderate heat until they are soft (about 20-30 minutes). Scoop out the scallops and transfer to a medium size bowl. Retain about 1/2 cup of the liquid remaining in the pot used for steaming the scallops. Allow the scallops to cool and then break them apart with your fingers or a fork. Transfer to a food processor or blender and pulse until the scallops have turned into fine threads. Set the shredded scallops aside. Next, place the fresh chillies, dried chillies, and garlic into the food processor bowl. Pulse until the mixture forms a thick paste. Scrape the chilli and garlic paste into a bowl with the shredded scallops. Next, shred the dried shrimp, shallots, and bacon in the food processor until well minced, but not a smooth paste.
Then, heat a large wok or Dutch oven over moderate to high heat. When it is very hot, add the oil and heat to very hot. Next, add the shallot mixture, and stir-fry until the mixture is aromatic and just starting to become to crispy (about 4-5 minutes). Sprinkle in the brown sugar, and fry briefly once again, until the mixture just starts to caramelize (only about 30-45 seconds or so). Then, add the shredded scallop mixture and stir-fry for about an additional 30-45 seconds. Then, add the reserved cooking water from steaming the scallops. Cook until almost all of the liquid has evaporated (about 1-2 minutes). Allow the mixture to cool and then transfer to a glass container with a tight-fitting lid. The XO sauce will keep up for a month sealed in the refrigerator.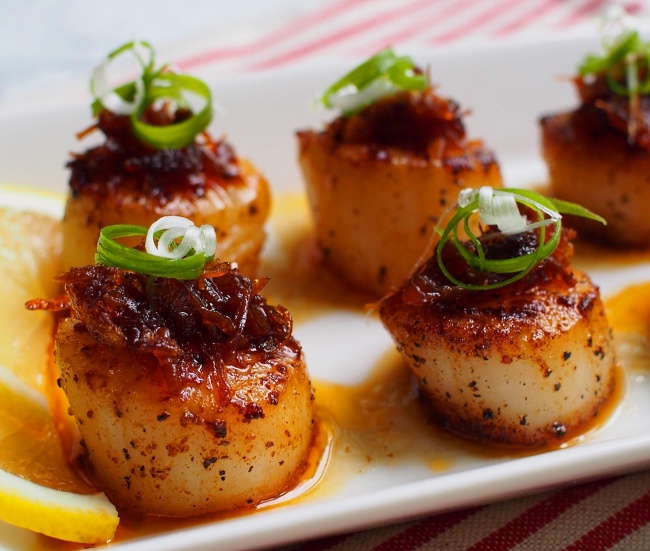 Pan Grilled Scallops with XO Sauce
Ingredients
6 large scallops
1 wedge oflemon
1 tablespoon butter
1 tablespoon olive oil
Salt and pepper to taste
1/2 teaspoon curry powder
2 tablespoons homemade X0 sauce
Chopped spring onions to garnish
Method
Pat dry the scallops using paper towels, and then season on all sides with salt, curry powder and pepper. Then, heat a heavy pan or Dutch oven over moderate to high heat. Add the oil and butter and heat to hot and to melt the butter. Sear the scallops in small batches for about 2 minutes on each side, only turning once. Transfer the scallops to a plate and sprinkle with little lemon juice. 6. Add a dollop of the XO sauce on top of each scallop. Serve immediately garnished with spring onions.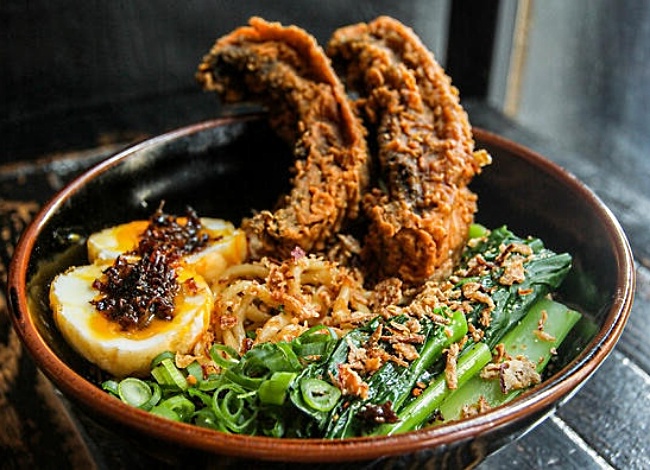 Stir-Fried Wagyu Beef with Rice Noodles Seeped in Homemade XO sauce
Ingredients
1/2 cup bean sprouts
2 garlic cloves, sliced
1/2 cup homemade XO sauce
1 small onion, cut into wedges
1 long fresh red chilli, chopped
150 g (5 oz) fresh soft rice noodles
3 heads choy sum, cut into short lengths
2 tablespoons rice bran or grape seed oil
1 spring onion, thinly sliced on an angle
150 g (5 oz) Wagyu beef fillet, thinly sliced (or similar tender beef steak)
Method
Heat a wok over moderate to high heat until very hot. Then, add half the oil and when very hot, add the beef and sear, stirring occasionally until it the meat is a nice deep brown colour. When cooked, remove the beef with a slotted spoon and set aside. Next, add the remaining oil to the wok and sauté the garlic and onion over high heat for 2-4 minutes or until tender and light golden brown in color. Then, add the noodles and stir-fry for 1-2 minutes or until brown in colour. Add 1/2 cup of homemade XO sauce and toss to coat all surfaces of the noodles and to ensure some of the sauce gets absorbed into the noodles. Add the bean sprouts and choy sum, and stir-fry for an extra minute to two. Add the cooked beef back into the wok, mixing to heat the beef and combine with the other ingredients. Serve immediately, scattered with chilli and spring onion.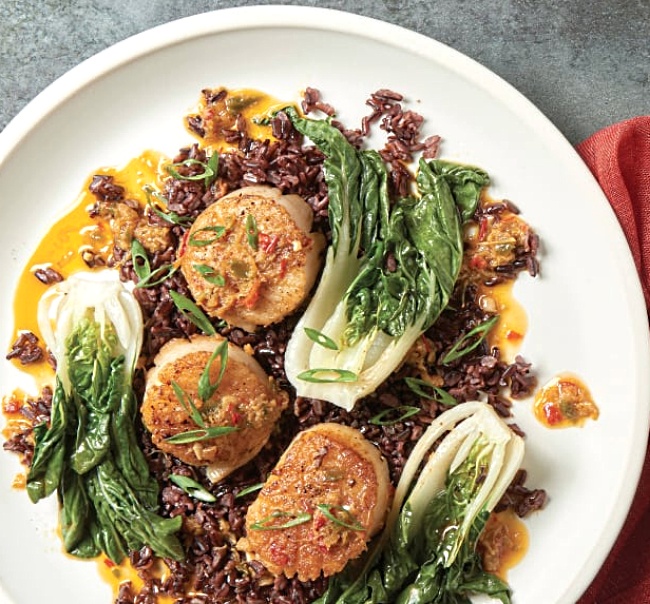 Fried Mushrooms with XO Infused Noodles
Ingredients
salt to taste
pepper to taste
1 bunch Chinese broccoli
3 tablespoons chilli oil
1/2 bunch green shallots
1/4 cup Homemade XO sauce
4 free range farm fresh eggs
200 g (7 oz) shallots or onion
Rice bran or grape seed oil for frying
100 ml (1/2 cup) good-quality soy sauce
4 large flat mushrooms cleaned and cut in half
650 g (24 oz) fresh Japanese tsukemen noodle (or similar)
For the fried mushroom spice mix
1/2 teaspoon salt
1 teaspoon ground cumin
500 g (1 lb) plain flour
1 teaspoon sweet paprika
1 teaspoon ground pepper
1/2 teaspoon cayenne pepper
1 teaspoon ground coriander
For the Pickle
100 g (3 oz) caster sugar
100 ml (1/2 cup) rice wine vinegar
200 g (7 oz ) daikon, (thinly sliced)
Method
Prepare the spice mix, by combining all the dry spices with the flour in a mixing bowl. Dust the mushrooms all over with the spice mix and set aside. Prepare the pickle, by boiling the sugar in the rice wine vinegar. Pour the hot liquid over the daikon radish slices and allow to cool in your refrigerator. Keep cold until needed. Prepare the Chinese broccoli by cutting in half and then washing the leaves and stems thoroughly. Blanch the stems and leaves for 1-2 minutes in boiling water. Strain to drain off any excess water. Next, prepare the eggs by boiling for 6 minutes. Remove and cool the eggs before peeling them and setting aside.
To cook the dish heat to oil in a Dutch oven or large saucepan to 180 degrees C (350 degrees F). 8. Fry the peeled whole boiled eggs for 2 minutes in the hot oil and then slice in half and set aside. Dip each of the floured mushrooms in water and then back into the flour, to create a crisp coating when fried. Fry the mushrooms in small batches for 2–3 minutes. Use a slotted spoon to remove the mushrooms when cooked, draining them on paper towels. Sprinkle with a little salt and set aside.
Cook noodles following the direction on the packet. Add the noodles to a large mixing bowl and toss with the dressing and shallots. Add the dressed Chinese broccoli, pickled daikon, soy and chilli oil, and the eggs. Spoon XO sauce over the egg and noodles. Add the crispy fried flat mushrooms and serve hot.