Iron Rich Foods for Natural Treatment of Iron Deficiencies
Iron is a vital dietary component that plays a vital role in many body processes and functions, the most important of which is its role in the transport of oxygen in the blood. Iron lies at the core of haemoglobin, which is a metallo-protein located red blood cells of all virtually all vertebrates. The haemoglobin in the blood carries oxygen from the respiratory organs (gills, skin and lungs) to all the tissues of the body. One of the first signs of iron deficiency is a deterioration in the oxygen transport which is exemplified by the symptoms of tiredness, fatigue, and impaired immunity.

Maintaining your iron levels within the correct healthy limits is very important and this article lists the natural foods and products that are rich in iron and can be used to overcome iron deficiencies when they occur. In some cases, supplements may be required, however it is important to realised that excess iron can be harmful. There is less risk of overdose with iron rich foods.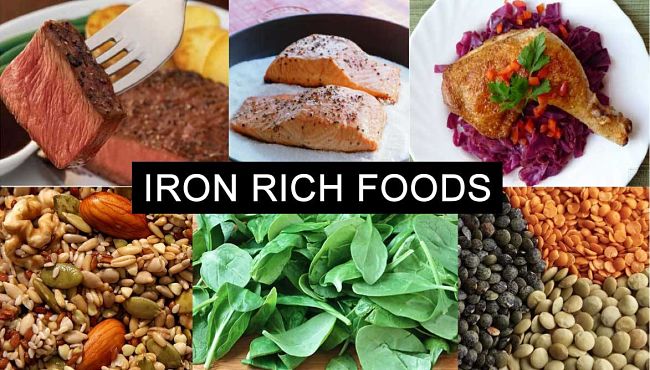 Iron deficiency - Who's at Risk?
Iron deficiency is relatively common, but many people are unaware of it.
High-risk people and groups include:
menstruating women,
babies and toddlers,
teenage girls,
pregnant women,
female athletes,
men and women on diets trying to lose weight,
athletes and body builders
men and women with poor diets
vegetarians, particularly vegans.
Common causes of iron deficiency
Inadequate dietary intake - the richest sources of iron is animal foods such as red meats and liver. Some plants and spices also have relatively high iron levels. However various groups are at risk of iron deficiencies through a variety of causes:
people on chronic fad diets and meal replacement supplements
poorly balanced vegetarian diets,
limited access to a wide range of fresh foods
poor general diets that are rich in carbohydrate but are low in red meat
Blood loss – iron deficiency often occurs through chronic blood loss. Common causes include
regular blood donation,
heavy menstrual periods,
chronic diseases that cause bleeding (such as polyps or cancers in the large intestine, internal bleeding, peptic ulcers )
medications that affect iron uptake and metabolism, particularly aspirin that cause internal bleeding.
Extra Demands Exceeding Supply - Many changes in metabolic rate and growth rates in children and adolescents can meat that people are not getting enough iron in the food. This can occurs through
adolescent growth spurts,
pregnancy and breastfeeding . If this increased iron requirement is not met, a deficiency can quickly occur.
Exercise – Many athletes are quite susceptible to iron deficiency and this can severely impede their performance and training. Regular exercise and training can induce an extra demand for iron for
building muscle
increasing red blood cell production though developing aerobic capacity,
loss of iron through sweating
coping with dietary changes during training. For example protein shakes based on whey contain very little iron
Inability to absorb iron – Most healthy adults can absorb about 10-15 % of the iron contained in the food eaten, but some people through their genetics or through diseases and ailments are unable to absorb iron from food as efficiently. These people may need to use iron rich diets or supplements.
Diagnosis and treatment of Iron Deficiency
Your Iron status can be easily checked via a blood test. Self-diagnosis and treatment is not recommended.
There are three main stages of iron deficiency and associated problems:
Iron depletion – haemoglobin levels are normal, but there are no reserves of iron in the body.
Iron deficiency – haemoglobin levels have dropped below normal and the store in the blood and tissues have been depleted, causing general tiredness and lethargy.
Anaemia – The blood haemoglobin levels are severely depressed and the blood cannot carry enough oxygen to the tissues. Symptoms include a pale appearance, fatigue and breathlessness especially during and after exercise. Anaemia may also affect the immune system and cause impaired growth. Mental ability can also be lowered by anaemia.
Sources of Iron in Food
Most iron rich foods are animal in origin, basically because the iron is in the blood. For this reason, dietary iron can be a problem for vegetarians especially vegans. many people who have tried to avoid red meats in their diets may also have problems.
There are many excellent iron supplements available that you can you can take, but most people can get all the iron they need by focusing in the iron rich foods listed below. There are several points about the list which you should be aware of:
Many nutritionist recommend that people should only eat a maximum of 2-3 portions of red meat a week. One portion should be a liver which has a very high iron content. Non- animal sources of iron include: broccoli, brown rice, dried figs and apricots, various seeds and nuts, and if you an get it nettle tea, which is a great source of iron. By doing all that you will definitely get better.
Many of the ingredients are spices which you should eat sparingly. The percentages of daily allowance figures for these spices is very high for that reason. These percentages are a rough guide only as everyone's needs vary.
Iron Rich Foods (listed by iron content per serve)
| Food | Iron Content (mg per serving - 100g) | % Daily Allowance | Calories |
| --- | --- | --- | --- |
| Thyme ground | 124 | 688 | 276 |
| Curry Powder | 58 | 321 | 233 |
| Oat & Wheat Bran | 45 | 250 | 330 |
| Cinnamon ground | 38 | 210 | 0 |
| Garam Masala | 33 | 183 | 380 |
| Rosemary | 30 | 167 | 330 |
| Paprika | 24 | 133 | 290 |
| Sesame Seeds | 10 | 55 | 11 |
| Liver | 9 | 50 | 190 |
| Fish Paste | 9 | 50 | 170 |
| Wheatgerm | 8.5 | 49 | 300 |
| Liquorice | 8 | 44 | 310 |
| Kidney | 8 | 44 | 170 |
| Venizon | 7.8 | 43 | 200 |
| Heart | 7.7 | 43 | 180 |
| Boiled Mussels | 7 | 39 | 90 |
| Liver Pate | 7 | 39 | 190 |
| Liver Sausage | 6.4 | 36 | 312 |
| Cashew Nuts | 6.2 | 34 | 610 |
| Blackcurrants canned | 5 | 28 | 45 |
| Goose | 5 | 28 | 320 |
| Shrimp | 5 | 28 | 95 |
| Pheasant | 5 | 28 | 220 |
| Sardines canned | 4.5 | 27 | 180 |
| Figs dried | 4.2 | 23 | 205 |
| Anchovies canned | 4 | 22 | 310 |
| Whitebait | 4 | 22 | 310 |
| Apricots | 3.5 | 19 | 160 |
| Boiled Lentils | 3.5 | 19 | 100 |
| Hazelnuts | 3.2 | 19 | 650 |
| Almonds | 3 | 17 | 600 |
| Soya Beans | 3 | 17 | 140 |
| Wholemeal Bread | 2.7 | 15 | 215 |
| Pilchards canned | 2.7 | 16 | 130 |
| Red Kidney Beans | 2.5 | 14 | 100 |
| Lean Beef | 2.5 | 16 | 240 |
| Watercress | 2.2 | 14 | 23 |
Recommended Dietary Allowance (RDA) for iron by age and sex
| Age/Group | Life Stage | Iron (mg/day) |
| --- | --- | --- |
| Infants | 0–6 months | 0.27 |
| | 7–12 months | 11 |
| Children | 1–3 years | 7 |
| | 4–8 years | 10 |
| Males | 9–13 years | 8 |
| | 14–18 years | 11 |
| | 19–30 years | 8 |
| | 31–50 years | 8 |
| | 51–70 years | 8 |
| | >70 years | 8 |
| Females | 9–13 years | 8 |
| | 14–18 years | 15 |
| | 19–30 years | 18 |
| | 31–50 years | 18 |
| | 51–70 years | 8 |
| | >70 years | 8 |
| Pregnant Women | 14–18 years | 27 |
| | 19–30 years | 27 |
| | 31–50 years | 27 |
| Lactating Women | 14–18 years | 10 |
| | 19–30 years | 9 |
| | 31–50 years | 9 |