Low GI Food List and Diet Tips for Using the Glycemic Index
The Glycemic Index (GI) is sometimes listed on food labels. It is a measure of how quickly the food (especially carbohydrates) breaks down in the body. The use of GI is related to the debate about whether unprocessed and whole foods are better for you as these foods have bulk and fiber and tend to release glucose more gradually than processed foods. High GI foods such as processed foods, or foods with added sugar, have high GI as the carbohydrates they contain tend to break down quickly causing a rapid injection of glucose into the bloodstream . Low GI foods tend to be digested more slowly, with slower release of glucose into the bloodstream.
The GI concept was developed in 1981 by Dr. David J. Jenkins at the University of Toronto to find ways of identifying the best foods for people with diabetes. The glycemic index is technically defined as the amount of glucose released from a sample of the food (usually 50 g) over a two-hour period. The current methods use white bread or glucose as the reference food, with glucose assigned a glycemic index value of 100 by definition. The GI is expressed as an index of the rate of appearance or glucose in the blood compared with glucose as a standard with a GI value set at 100. See this article for information on glycemic testing. See this website for a huge food GI database.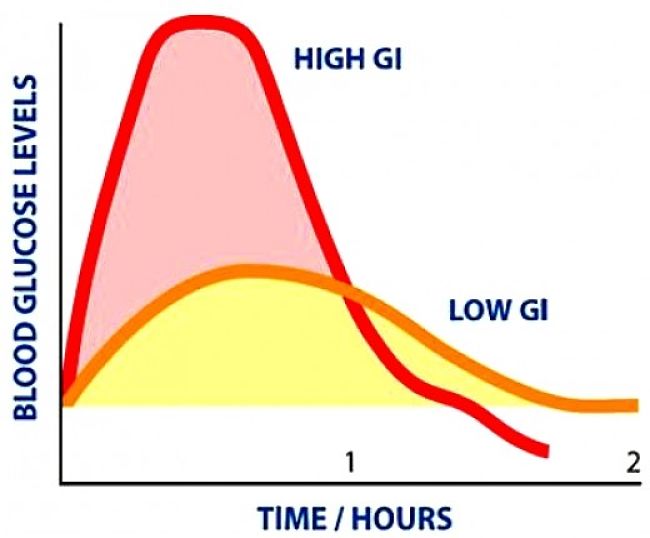 Choosing low-GI foods generally and for a low-GI diet plan has been generally linked to many health benefits. These advantages include helping control diabetes, losing weight, reduced insulin secretion, improve athletic performances, help to lower the risk of diabetes and cardiovascular disease and many other claims. But what are the facts and how showed the GI of foods be used to develop healthy eating plans?
Benefits of Low-GI Foods
► Low-GI foods, have slower rates of digestion and absorption or nutrients and so produce more gradual rises in insulin levels and blood sugar. So, these Low-GI foods have established benefits for health and for weight loss.

► Further, these diets have been shown to improve blood lipid and glucose levels in people who have with diabetes (both Type 1 and Type 2 diabetes).

► Low-GI foods help people who are trying to lose weight or maintain their body weight because foods with low GI help to control appetite and delay the onset of hunger pangs.

► Low GI diets have also been shown to lower insulin levels and help improve the insulin resistance response.

► Recent research conducted by the Harvard School of Public Health suggests that the risk of diseases such as coronary heart disease and type 2 diabetes is strongly correlated with the GI of the overall diet. The Food and Agriculture Organisation (FAO) and World Health Organisation (WHO) both recommended that people in industrialised countries shift their diets to low-GI foods to help lower people's risk of diabetes, coronary heart disease and obesity.
GI Needs to be Considered in Relation to other Nutrients
GI only relates to carbohydrates and their chemical type (glucose, fructose, sucrose, starch or other complex carbohydrates) and how they are 'locked-up' in the food. Foods with no carbohydrate don't have a GI (e.g. chicken, beef, avocados and even some fruits). Many whole foods such as an apple may be rich in sugars but they are encased in fibres and cellulose cell walls. Apples only have a GI of 34 compared with French fries 75, Sucrose (Table Sugar) 65, Honey 35-58, Fructose 23.

So in choosing foods you can't just follow the GI classification - you need to consider all the other nutritional attributes of foods such as fat, calories, sodium, sugars, fibre and calcium. Surprisingly the GI of french fries is much lower than that of baked potatoes, but the calories and saturated fat in the fries is much higher, making them an unhealthy choice. Generally, whole foods are nutritious and have low GI. Fresh fruits and vegetables and wholegrains are better food choices than their processed derivatives.
Questions and Answers about the Glycemic Index

Does the GI increase with serving size?
No, the GI value always remains the same, even if you double the amount of carbohydrate in your meal. Remember that the GI is an index, that is the relative ranking of foods containing the "same amount" of carbohydrate. .

What is the Glycemic Load (GL)?
The level of glucose in the blood rises and falls when you eat a meal containing carbohydrate. How far rises and how long it remains elevated obviously depends both on the amount of carbohydrate eaten and the GI of the carbohydrate. The Glycemic load (GL) is an attempt to combine both the quantity and quality of carbohydrate in one 'number'. It can be used to predict the blood glucose impact of various food types and quantities of food. The GL can be regarded as the quantity of carbohydrate in a food 'modified' for its glycemic potency. The formula is:
GL = (GI times the quantity of carbohydrate) divided by 100.
For one apple - it has a GI of 40 and 15 g of carbohydrate.
GL = 40 times 15/100 = 6 g [ 100 calories ]
For a small baked potato - it has a GI is 80 and 15 g of carbohydrate.
GL = 80 times 15/100 = 12 g [ 161 Calories ]

So this suggests that the potato will have twice the metabolic effect of an apple.
However a diet with a low GL can be a poor one for overall health as it can be full of the wrong types of fats and high in calories. Choosing healthy low GL foods with at least one at every meal will help reduce the impact of the carbohydrate in the diet and balance the amounts of carbohydrates, fats and proteins for a healthy diet.
How Should the GI be Used to Choose Foods?
Remember that the GI only relates to carbohydrates. A food with a low GI can have very high calories relative to other foods that are rich in fats. The GI is best used a tool to help you choose between various food options in the same food group. For example to compare the GI values of breads, cereals and other foods rich in carbohydrates. Use the GI to identify your best carbohydrate choices - slow carbs, not necessarily low carbs. Whole foods generally provide carbohydrates in a slow release form. Always watch you portion sizes. GI by itself is not necessarily the best way of making healthy food choices. Chocolates, Candy bars, Soft drinks, and many ice creams have low to moderate GIs. Brown rice, whole-wheat bread and whole-grain spaghetti all have the same GI values as their refined white versions. The conclusion is that calories matter for weight loss not GI by itself! Energy restrictions and an increases in energy expenditure through exercise should be the main focus of weight loss programs and diets.
Why do High-Fiber Foods have a Relatively high GI value?
Dietary fibre consists of many different types of molecules and there are both insoluble and soluble and fibre types. Soluble fibre is often fairly thick and jelly-like, even in the small intestine and this delays digestion and release of the carbohydrate in the food. Therefore many foods rich in carbohydrate, with soluble fibre, such as oats, apples, many other fruits and legumes, have surprisingly low GI values.
Insoluble fibre, in contrast despite being tougher, does not provide the same protection and so does not slow digestion once the basic structure of the food is broken. When insoluble fibre is finely milled rapid digestion can occur. Fibre-rich wholemeal bread and fibre-poor white bread have similar GI values. Brown pasta and brown rice have similar values to their white counterparts.
Why are there no GI values for beef, fish, tofu, eggs, nuts, chicken, seeds, avocados, many vegetables, fruits (including berries), wine, beer and spirits
These foods contain little or no carbohydrate, or so their GI cannot be determined using the standard methods. These types of foods, eaten alone, will not affect your blood glucose levels because they contain so little carbohydrate.
Why Does Pasta have a low GI?
Pasta has a low GI because the starch granules are enshrouded in sponge-like protein network in the pasta dough. Pasta is very distinctive in this respect. Consequently most pastas of various shapes and sizes have a fairly low GI (30 - 60). Asian noodle types such as udon, hokkein and rice vermicelli also have low to moderate GI values. The GI value of pasta can be increased by over-cooking as this breaks down the protein.
Most Potato Dishes and Breads have a high GI. Are they Bad for You?
Potatoes and bread do have high GI as the starch in them can be readily converted to glucose. Choose varieties of bread that have lower GI values. Potato salad made from boiled potatoes, tossed with a dressing and stored in the fridge overnight has a much lower GI than freshly cooked potatoes. This is partially explained by the dressing slowing digestion and the effect of the cold storage on the availability of the starch.
Some High Fat Foods have Low GI. Isn't this misleading?
The GI of foods with high fat contents is often low, especially with saturated fat. For example the GI value of french fries and potato chips, which have high fat contents is lower than baked potatoes which if not smothered in oil have very low fat. High quantities of fat in foods act to slow the rate of digestion and so the rate the glucose appears in the blood stream. Yet the saturated fat is unhealthy and adds to the calories.
How relevant is the GI for athletes?
Studies have shown that the GI can be useful tool for helping athletes to choose the best carbohydrates to consume both after and before exercise routines and races. Low GI pre-exercise meals helps to sustain blood glucose concentrations during exercise. Eating high GI carbohydrates at the end of a race or exercise session increases insulin concentrations and plasma glucose levels and this helps to re-build the glycogen stores in the muscles.
How do GI Diets work?
Diets based on GI index simply focuses on making choices to eat low GI foods that helps to prevent surges and drops in blood sugar, and helps dieters to feel fuller for longer after a meal. However, most GI diets also recommend cuts in fat consumption, especially saturated fat, and reductions in portion sizes and calories. This means that many surprisingly low GI foods that are rich in fats and calories - such as whole milk, chips, potato crisps and chocolate- are still restricted.
The overall GI of a food is affect by all the nutrients in the food, not just the type of carbohydrate. Protein and fat affect digestion and the absorption of carbohydrate into the blood stream. This helps to explain why chocolate has a low GI value and why french fries have a lower GI value than dry-roasted potatoes.
How you cook various foods, the extent of processing and the ripeness and species of fruits, also influences its GI. Processed so-called 'instant oatmeal' porridge has a greater GI than unprocessed rolled oats. The processing makes the starch in the oats more readily available.
GI index charts only relate to the individual food item itself. This is a major issue for GI diets because we eat a mixture of foods in a meal. An combining foods as you eat them changes their ease of digestion and hence their GI. As a general guide to lower the overall GI value of a meal include more low GI foods.
In general, most dietitians and nutritionists support basic concept of the low GI diet and the choice of low GI foods as alternatives for healthy food choices.
LIST OF FOODS RANKED BY GI VALUE (from Low to High)
| Food | GI | Food | GI | Food | GI |
| --- | --- | --- | --- | --- | --- |
| Muesli | 5 | Chocolate milk | 42 | Mango | 60 |
| Hummus | 6 | Milk Chocolate | 42 | Papaya | 60 |
| Broccoli | 10 | Custard | 43 | Canned Potatoes | 61 |
| Cabbage | 10 | Grapes | 43 | Couscous | 61 |
| Chillies | 10 | Orange | 43 | Figs | 61 |
| Lettuce | 10 | Canned lentil soup | 44 | Hamburger bun | 61 |
| Mushrooms | 10 | Soy Milk | 44 | Icecream | 62 |
| Onions | 10 | Pinto Beans | 45 | Wholemeal Rye | 62 |
| Red Peppers | 10 | Coconut | 45 | Porridge Oats | 63 |
| Cauliflower | 15 | Heavy Mixed Grain | 45 | Ryvita | 63 |
| Eggplant/Aubergine | 15 | Macaroni | 45 | Beetroot | 64 |
| Green Beans | 15 | Pineapple juice | 46 | Canned apricots, light syrup | 64 |
| Low-fat yogurt, no sugar | 15 | Sponge Cake | 46 | Macaroni and cheese | 64 |
| Most non starchy vegetable | 15 | Wholegrain Pumpernickel | 46 | Raisins | 64 |
| Peanuts | 15 | Banana bread | 47 | Quick-cooking porridge | 65 |
| Tomatoes | 15 | Frozen Sweet Corn | 47 | Rye crisp-bread | 65 |
| Walnuts | 15 | Instant Noodles | 47 | Table sugar (sucrose) | 65 |
| Raw Carrots | 16 | Kiwi Fruit | 47 | Instant porridge | 66 |
| Lentils, Red | 21 | Long-grain rice | 47 | Nutrigrain | 66 |
| Nuts and Raisins | 21 | Bulgur | 48 | Pineapple | 66 |
| Cherries | 22 | Canned baked beans | 48 | Croissant | 67 |
| Pearled Barley | 22 | Grapefruit juice | 48 | Shredded Wheat | 67 |
| Peas | 22 | Green peas | 48 | Cornmeal | 68 |
| Artificially Sweetened Yoghurt | 23 | Oat bran bread | 48 | Gnocchi | 68 |
| Plums | 24 | Sourdough Rye | 48 | Maple flavoured syrup | 68 |
| Cashew Nuts | 25 | Sweet Potatoes | 48 | Taco Shells | 68 |
| Grapefruit | 25 | Nut & Seed Muesli Bar | 49 | Whole wheat bread | 68 |
| Slim-Fast meal replacement | 27 | Old-fashioned porridge | 49 | Special K (US) | 69 |
| Peaches | 28 | Whole Wheat | 49 | Tapioca | 70 |
| Prunes | 29 | All-bran (US) | 50 | Bagel | 72 |
| All-bran (UK/Aus) | 30 | Blackeyed Beans | 50 | Corn chips | 72 |
| Lentils, Green | 30 | Brown Rice | 50 | Watermelon | 72 |
| Peach, canned in natural juice | 30 | Oat bran | 50 | Fresh Mashed Potatoes | 73 |
| Wheat tortilla | 30 | Tortellini (Cheese) | 50 | Mashed potatoes | 73 |
| Haricot/Navy Beans | 31 | Buckwheat | 51 | Sultana Bran | 73 |
| Baby lima beans | 32 | Jam | 51 | Branflakes | 74 |
| Dried Apricots | 32 | Rolled Oats | 51 | Cheerios | 74 |
| Egg Fettuccini | 32 | Canned kidney beans | 52 | Puffed wheat | 74 |
| Fat-free milk | 32 | Kidney Beans (canned) | 52 | Weetabix | 74 |
| Skimmed milk | 32 | Orange juice | 52 | French Fries | 75 |
| Spaghetti | 32 | New Potatoes | 54 | Pumpkin | 75 |
| Yellow Split Peas | 32 | Potato chips | 54 | Donuts | 76 |
| Low-fat yogurt, with sugar | 33 | Sourdough Wheat | 54 | Coco Pops | 77 |
| Nutella | 33 | Special K (UK/Aus) | 54 | Oats in Honey Bake | 77 |
| Sweetened yoghurt | 33 | Wheat Pasta Shapes | 54 | Vanilla wafers | 77 |
| Apples | 34 | Linguine | 55 | Water Crackers | 78 |
| Custard | 35 | Oatmeal cookies | 55 | White bread | 79 |
| Yam | 35 | Oatmeal Crackers | 55 | Cornflakes | 80 |
| Butter Beans | 36 | Popcorn | 55 | Instant Mashed Potatoes | 80 |
| Pear | 36 | Sweet corn | 55 | Jelly beans | 80 |
| Soya and Linseed | 36 | Beans in Tomato Sauce | 56 | Watermelon | 80 |
| Whole wheat spaghetti | 37 | Sultanas | 56 | Pretzels | 81 |
| Tomato soup | 38 | White rice | 56 | Puffed Crispbread | 81 |
| Carrots, cooked | 39 | Pita bread | 57 | Rice Krispies | 82 |
| Frozen Green Peas | 39 | Wild Rice | 57 | Mashed potatoes, instant | 83 |
| Meat Ravioli | 39 | Bananas | 58 | Short Grain White Rice | 83 |
| Natural Muesli | 40 | Basmati Rice | 58 | Cornflakes | 84 |
| Oranges | 40 | Bran Buds | 58 | Glutinous Rice | 86 |
| Strawberries | 40 | Chinese (Rice) Vermicelli | 58 | Instant White Rice | 87 |
| Apple juice | 41 | Honey | 58 | Rice cakes | 87 |
| Boiled Carrots | 41 | Mini Wheats | 58 | Rice, instant | 91 |
| Coconut Milk | 41 | Blueberry muffin | 59 | Scones | 92 |
| Pears | 41 | Blueberry cupcake | 59 | French Baguette | 95 |
| Snickers Bar (high fat) | 41 | Digestives | 59 | French bread | 95 |
| Canned chickpeas | 42 | Baked Potatoes | 60 | Parsnips | 97 |
| Chick Peas | 42 | Bran muffin | 60 | Dates | 99 |
ALPHABETICAL LIST OF FOODS AND GI VALUES
| Food | GI | Food | GI | Food | GI |
| --- | --- | --- | --- | --- | --- |
| All-bran (UK/Aus) | 30 | Glutinous Rice | 86 | Pineapple juice | 46 |
| All-bran (US) | 50 | Gnocchi | 68 | Pinto Beans | 45 |
| Apple juice | 41 | Grapefruit | 25 | Pita bread | 57 |
| Apples | 34 | Grapefruit juice | 48 | Plums | 24 |
| Artificially Sweetened Yoghurt | 23 | Grapes | 43 | Popcorn | 55 |
| Baby lima beans | 32 | Green Beans | 15 | Porridge Oats | 63 |
| Bagel | 72 | Green peas | 48 | Potato chips | 54 |
| Baked Potatoes | 60 | Hamburger bun | 61 | Pretzels | 81 |
| Banana bread | 47 | Haricot/Navy Beans | 31 | Prunes | 29 |
| Bananas | 58 | Heavy Mixed Grain | 45 | Puffed Crispbread | 81 |
| Basmati Rice | 58 | Honey | 58 | Puffed wheat | 74 |
| Beans in Tomato Sauce | 56 | Hummus | 6 | Pumpkin | 75 |
| Beetroot | 64 | Icecream | 62 | Quick-cooking porridge | 65 |
| Blackeyed Beans | 50 | Instant Mashed Potatoes | 80 | Raisins | 64 |
| Blueberry cupcake | 59 | Instant Noodles | 47 | Raw Carrots | 16 |
| Blueberry muffin | 59 | Instant porridge | 66 | Red Peppers | 10 |
| Boiled Carrots | 41 | Instant White Rice | 87 | Rice cakes | 87 |
| Bran Buds | 58 | Jam | 51 | Rice Krispies | 82 |
| Bran muffin | 60 | Jelly beans | 80 | Rice, instant | 91 |
| Branflakes | 74 | Kidney Beans (canned) | 52 | Rolled Oats | 51 |
| Broccoli | 10 | Kiwi Fruit | 47 | Rye crisp-bread | 65 |
| Brown Rice | 50 | Lentils, Green | 30 | Ryvita | 63 |
| Buckwheat | 51 | Lentils, Red | 21 | Scones | 92 |
| Bulgur | 48 | Lettuce | 10 | Short Grain White Rice | 83 |
| Butter Beans | 36 | Linguine | 55 | Shredded Wheat | 67 |
| Cabbage | 10 | Long-grain rice | 47 | Skimmed milk | 32 |
| Canned apricots, light syrup | 64 | Low-fat yogurt, no sugar | 15 | Slim-Fast meal replacement | 27 |
| Canned baked beans | 48 | Low-fat yogurt, with sugar | 33 | Snickers Bar (high fat) | 41 |
| Canned chickpeas | 42 | Macaroni | 45 | Sourdough Rye | 48 |
| Canned kidney beans | 52 | Macaroni and cheese | 64 | Sourdough Wheat | 54 |
| Canned lentil soup | 44 | Mango | 60 | Soy Milk | 44 |
| Canned Potatoes | 61 | Maple flavoured syrup | 68 | Soya and Linseed | 36 |
| Carrots, cooked | 39 | Mashed potatoes | 73 | Spaghetti | 32 |
| Cashew Nuts | 25 | Mashed potatoes, instant | 83 | Special K (UK/Aus) | 54 |
| Cauliflower | 15 | Meat Ravioli | 39 | Special K (US) | 69 |
| Cheerios | 74 | Milk Chocolate | 42 | Sponge Cake | 46 |
| Cherries | 22 | Mini Wheats | 58 | Strawberries | 40 |
| Chick Peas | 42 | Most non starchy vegetable | 15 | Sultana Bran | 73 |
| Chillies | 10 | Muesli | 5 | Sultanas | 56 |
| Chinese (Rice) Vermicelli | 58 | Mushrooms | 10 | Sweet corn | 55 |
| Chocolate milk | 42 | Natural Muesli | 40 | Sweet Potatoes | 48 |
| Coco Pops | 77 | New Potatoes | 54 | Sweetened yoghurt | 33 |
| Coconut | 45 | Nut & Seed Muesli Bar | 49 | Table sugar (sucrose) | 65 |
| Coconut Milk | 41 | Nutella | 33 | Taco Shells | 68 |
| Corn chips | 72 | Nutrigrain | 66 | Tapioca | 70 |
| Cornflakes | 84 | Nuts and Raisins | 21 | Team | 82 |
| Cornmeal | 68 | Oat bran | 50 | Tomato soup | 38 |
| Couscous | 61 | Oat bran bread | 48 | Tomatoes | 15 |
| Croissant | 67 | Oatmeal cookies | 55 | Tortellini (Cheese) | 50 |
| Custard | 35 | Oatmeal Crackers | 55 | Vanilla wafers | 77 |
| Dates | 99 | Oats in Honey Bake | 77 | Walnuts | 15 |
| Digestives | 59 | Old-fashioned porridge | 49 | Water Crackers | 78 |
| Donuts | 76 | Onions | 10 | Watermelon | 72 |
| Dried Apricots | 32 | Orange | 43 | Weetabix | 74 |
| Egg Fettuccini | 32 | Orange juice | 52 | Wheat Pasta Shapes | 54 |
| Eggplant/Aubergine | 15 | Oranges | 40 | Wheat tortilla | 30 |
| Fat-free milk | 32 | Papaya | 60 | White bread | 79 |
| Figs | 61 | Parsnips | 97 | White rice | 56 |
| French Baguette | 95 | Peach, canned in natural juice | 30 | Whole Wheat | 49 |
| French bread | 95 | Peaches | 28 | Whole wheat bread | 68 |
| French Fries | 75 | Peanuts | 15 | Whole wheat spaghetti | 37 |
| Fresh Mashed Potatoes | 73 | Pearled Barley | 22 | Wholegrain Pumpernickel | 46 |
| Frozen Green Peas | 39 | Pears | 41 | Wholemeal Rye | 62 |
| Frozen Sweet Corn | 47 | Peas | 22 | Wild Rice | 57 |
| Glucose | 100 | Pineapple | 66 | Yam | 35 |