Smart Healthy Snacks - Ideas, Tips and Best Food Choices
Snacking, including beverages, now accounts for more than 25% of calorie intake per day. Almost all people eat one or more snacks every day. Snacks have become the equivalent of an extra meal, averaging about 580 calories. People also spend more time eating snacks than they did in the past.
Time spent snacking, sometimes while doing other activities more than doubled from 15 minutes per day in 2006 to nearly 30 minutes in 2008. Although many people don't include beverages such as snacks, smoothies, juices, shakes, as snacks they should be regarded as snacks because they contain high levels of calories, protein, carbohydrate, fat and other nutrients.
Most beverages should be regarded as liquid snacks. Beverages now represent about half the calories consumed through snacking.
Clearly, weight control and dieting strategies must consider snacks and beverages as part of the overall food consumption and number of calories consumed per day.

Snacking can be healthy if people make smart choices about what snacks they eat. Healthy options are available that not only taste fantastic, but are also a great source of dietary fiber, protein, vitamins, calcium, potassium and many other nutrients.
It is not really a matter of whether to snack or not, but rather how to snack smart and to choose healthy snacks as part of a healthy overall diet.
This article discusses the principles of smart, healthy snacking for a healthy whole food diet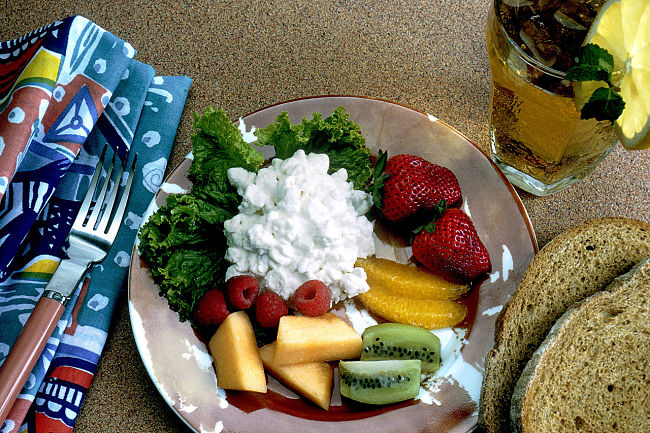 Principles to Use for Choosing Smart Healthy Snack Foods
Below are the seven key principles to use in choosing smart healthy snacks and ingredients:

High Protein Density

Many snacks are rich in sugars and carbohydrates. While they boost energy levels, the benefits are short-lived because the sugar causes a short spike in blood sugar and do not provide a sustained sense of fullness that curbs hunger pangs. However many snacks such as protein bars, wholemeal bread, low-fat yogurt, cheese, skim milk, some whole grain flours such as quinoa and fonio, soy products, wholemeal biscuits, nuts, dried fruits and vegetables are good sources of protein. Eggs, whey and lean meat are almost pure protein. Eating snacks containing protein helps slow down the rate of digestion of the snack helps you feel 'fuller' for longer period of time after eating the snack. The protein in snacks can be a very beneficial part of the overall daily food intake. Eating high protein snacks may mean that you can reduce the calorie intake of one of your other meals. Protein, itself has relatively high calories and so portion control is very important. Many meat proteins tend to be accompanied by lots of fat and this boosts the calories as well.

Fiber Content

Fiber in the diet is not only important for a healthy bowel and digestion it also adds bulk to the snack. It also slows down the digestion, which means the nutrients are released more slowly. This means that a high fiber snack will create a more sustained sense of fullness and delay the return of hunger pangs. The best way to add fiber is by including vegetables and whole grains in the snack. Meat and eggs have virtually no fiber. Bran and other grain extracts have very high fiber.

Low fat, Low sugar

Fat and sugar are the main source of calories in snacks. If you want to eat a diet low in fat and sugar than select snack foods that are low fat and sugar as well. Most commercial snacks are laden with high fat and sugar.
Bulky Foods that have Low Calorie Density
One very useful tip is to add bulky high fiber foods to most snacks. Using celery and carrot sticks and adding vegetables and salads to snacks, tends to dilute the calorie rich components such as nuts and fruits. This is an important part of portion control. If you add a salad to cooked chicken or turkey you will instantly half the calories eaten, because you will tend to eat less chicken. The same applies to nuts and dried fruits which have very high calories.

Portion Control

Portion control is absolutely critical with the high calorie density foods. Nuts, meats, dried fruits, and even fresh fruits, have high levels of calories. Ideally a snack should contain 200 calories or less. For dried fruits and nuts the portions corresponding to 200 calories are very small. For peanuts or cashews, 200 calorie portions are 1.5 oz (50g). For grapes, it is 10oz (300g), for dried apricots it is 2.6oz (75g), for peanut butter it is 1.2 oz (2 tablespoons) for raisins it is 1/2 cup (60 g). So care needed with fruit and especially nuts and dried fruit. It pays to be aware of what volume or weight of each snack food ingredient corresponds with 200 calories. Choose Whole Vegetables and Salad Ingredients, Rather than Fruit and Nuts

Vegetables make great snacks because they are bulky, they have low calorie density and mostly have very low fat levels. Eating vegetables as snacks means you don't have to pay as much attention to portion size and adding extra bulk to snacks to provide smarter choices.

Homemade Snacks that are Planned and Ready to Go, are Better than Commercial Snacks

Prepare smart, healthy snacks in advance with maximum variety to avoid boredom. Make snacks interesting, just the way you like them. Good snacking needs to become a habit. Have snacks ready to go for when you suddenly get hungry. This may mean taking prepared snacks with you. Otherwise, it is so easy to succumb to the poor quality dumb snack. Reaching for the junk snack can become a habit if the healthy ones are not available. You may need to develop strategies to resist or avoid the temptation to buy dumb snacks.
Foods to Use to Make Quick, Smart, Healthy Snack Ingredients
Canned fruit in single-serving containers
Carrots
Celery sticks
Cheese, low fat varieties and styles such as ricotta and cream cheeses
Cherry tomatoes
Cooked chicken and turkey, no skin
Flavored rice cakes
Fruit
Grapes (small portions)
Greek Yogurt
Green beans
Low-fat microwave popcorn
Pretzels (small portions)
Protein rich Whole grains
Raisins and other dried fruit (small portions)
Salmon and tuna (including canned varieties)
Snap peas
Soy Products
Unsalted nuts (very small portions)
Whole wheat crackers
Combo-Foods Snack Ideas
► Dip colorful mixes of sliced vegetables, tomatoes and bell peppers in low-fat salad dressing or hummus.

► Healthy dips with low -cal bagels, rice cakes and whole-grain crackers.

► Make your own healthy trail mix with high-fiber, high-protein cereal (such as rolled oats), small amounts of fiber rich dried fruit (such as dates, cranberries, apricots, almonds ), and nuts such as almonds. But watch the portion size as trail mixes have high calories.

► Mix fresh or frozen berries with low-fat Greek yogurt and topped with toasted sliced almonds or a sprinkle of granola.
► Mix peanut butter or almond butter, with honey and use aw apples, celery and carrots as dipping sticks.

► Spread whole-grain crackers with low-fat ricotta cheese or cottage cheese, sliced tomatoes and red pepper strips.
Ratings for Healthy Smart Snacks
A rating has been devised by giving an equal contribution to each of the major nutrients in a formula: protein, fiber, fat and sugar, for 200 calorie servings of a variety of snack foods. The protein and fiber contributions were positive and the fat and sugar were negatives. The table below shows the top 30 snack foods ranked using the rating index, with the higher scoring one set at 100%.
Ten Quick Healthy Snack Ideas under 100 cals
Bananas and other whole fruit – 386kJ/92cal
Fresh fruit, particularly bananas is a good choice. Bananas are rich in potassium, are easily digested and provide slow-burning energy. Great post-exercise snack.
Half a cup of edamame (broad) beans – 309kJ/74cal
Edamame beans have very high levels of plant-based protein and fiber and have low-GI carbohydrates. Simply boil and serve with a low-cal sauce.
Three corn crispbreads topped a slice of tomato and a tablespoon of reduced-fat cottage cheese – 414kJ/99cal
Thin corn crispbreads are a good low-calorie choice for a quick and easy, satisfying healthy snack.
One hard-boiled egg – 235kJ/56cal
High in good-quality protein, omega-3 fats and keep the hunger pangs at bay.
Half a cup of low fat Greek yoghurt with a tablespoon of mixed berries – 418kJ/100cal
Greek yoghurt is an excellent choice for its low calories, high protein and calcium boost. Berries are renowned as superfoods.
One carrot cut into sticks and one tablespoon of hummus – 414kJ/99cal
Carrot sticks and hummus is an excellent combination.
Two cups plain air-popped popcorn – 366kJ/88cal
Yes, despite its poor reputation plain popcorn without all that butter and excess salt is a very healthy snack!
Ten almonds – 286kJ/68cal
Almonds are rich in healthy fats, fiber, many antioxidants, and a re a rich source of Vitamin E.
Three wholegrain crispbreads with 3 tablespoons of ricotta cheese – 408kJ/98cal
This is another cracker and cheese option that is satisfying, but with low calories, high fiber and some protein
Small skim milk flat white coffee – 470kJ/112cal
This slightly exceeds the 100 cal limit, but using skim milk keeps the calories down.
200 Calorie, Smart Healthy Snacks ranked for Healthy Nutrients (protein and fiber, positive; fat and sugar, negative)
| Food | Serving Size, Measure | Relative Health Score | Protein (g) | Fiber (g) | Sugar (g) | Fat (g) |
| --- | --- | --- | --- | --- | --- | --- |
| canned tuna in spring water | 7 oz can | 100 | 45 | 2.5 | 0 | 2.5 |
| fruit strips | four strips | 88 | 35.6 | 4.4 | 0 | 4.4 |
| cooked chicken and crackers | 6 oz. chicken, 8 crackers | 87 | 37.1 | 0 | 0 | 2.9 |
| edamame is a protein rich soybean, full of antioxidants and phytochemicals | one cup | 83 | 18 | 8.5 | 3.2 | 1.1 |
| turkey jerky | two ounce | 78 | 36.7 | 0 | 16.7 | 0 |
| raspberries | One pint | 76 | 3.7 | 24.7 | 16 | 2.5 |
| turkey wrap | one flatbread wrap with three slices turkey breast | 72 | 20 | 4.6 | 0 | 4.6 |
| Blueberries and Greek yogurt - low fat and low sugar yoghurt | per serving | 71 | 25 | 2.7 | 16.7 | 0 |
| seasoned tuna | 6-oz. serving of Tuna: | 71 | 29.1 | 5.5 | 3.6 | 7.3 |
| english muffin with fruit spread - no butter | one muffin with spread | 70 | 0 | 16.9 | 9.2 | 1.5 |
| bean tostada | 1 tostada with 2 tablespoons salsa | 67 | 10 | 5 | 1.3 | 2.5 |
| popcorn | two bags popped | 65 | 6 | 6 | 0 | 3 |
| pretzels and honey mustard | two ounce of pretzels andtwo teaspoon of Honey Mustard | 63 | 6.7 | 5 | 0 | 3.3 |
| deviled eggs | 8 filled egg halves | 62 | 6.3 | 2.1 | 0 | 2.1 |
| sweet potato and cinnamon non-fat yoghurt | one medium sweet potato and 2 tablespoons of plain, nonfat yogurt | 60 | 6.3 | 7.4 | 15.8 | 0 |
| fiber bars - high fiber, unprocessed whole grains and low sugar content | one bar | 60 | 5.7 | 17.1 | 12.9 | 5.7 |
| crunchy chick peas | 4 oz. serving | 59 | 7.9 | 10.2 | 0 | 7.7 |
| crispbread with cottage cheese and apple | two whole-wheat crispbreads, 60g cottage cheese and 1/2 apple | 58 | 12 | 6.7 | 10.7 | 4 |
| greek yoghurt and honey | 6 oz. plain Greek yoghurt and 1 tablespoon honey | 57 | 22.5 | 0 | 20 | 1.3 |
| instant oatmeal (low sugar) | two packet (made with water) | 56 | 6.7 | 5 | 6.7 | 3.3 |
| tortilla chips and salsa | 16 baked chips and 1/2 cup salsa | 55 | 5.6 | 6.7 | 8.9 | 3.3 |
| sugar snap peas and grated parmesan | two cup peas and 3 tablespoon grated Parmesan | 55 | 16.5 | 7.1 | 9.4 | 7.1 |
| vegetable sushi rolls | 5 pieces | 54 | 5.7 | 4.3 | 1.4 | 5 |
| raw veggies and salad dressing(fat free) | 1 cup raw veggies and 2 tablespoon ranch dressing | 53 | 13 | 0 | 15.1 | 1.1 |
| celery and strawberry cream cheese | 8 medium stalks of celery; 4 tablespoons flavored cream cheese | 52 | 7.3 | 7.3 | 0 | 8.2 |
| tomato with mozzarella | Slice up a tomato, top with slices of mozzarella, fresh basil | 51 | 5.6 | 2.2 | 0 | 5.6 |
| granola | 80g serving | 49 | 0 | 6.7 | 8.3 | 3.7 |
| cherries, whole | two cups | 49 | 2 | 6.9 | 22 | 0 |
| cooked turkey with apple slices | 6 turkey slices and one large apple sliced | 49 | 13.6 | 4.5 | 21.2 | 3 |
| canned peaches and sunflower seeds | One serve of peaches and 2 tablespoon sunflower seeds | 49 | 3.5 | 3.5 | 15 | 1.2 |
| toasted corn kernels | two ounce serving | 48 | 3.7 | 3.1 | 0 | 6.2 |