What is Halloumi, How to Make it, Use it, Stellar Recipe Collection
Halloumi cheese, also known as hellim, has grown in popularity in restaurants and in home cooking. It is a firm, fresh, salty and tangy cheese originally from Cyprus. It resembles firm tofu in texture. Traditionally is was made from sheep and goat's milk, rather than cow's milk, though the latter is more popular in many countries throughout the world today. It is simply made using fresh milk that is curdled with rennet. The curds that form in the mixture are collected and drained,. The whey is retained and the halloumi is sliced into blocks which are simmered for about 60 minutes in the retained whey.

This firm, rather rubbery simple halloumi cheese is then cured in brine, mostly with some dried mint, which imparts the unique halloumi's flavour that many people enjoy so much. Halloumi has Protected Designation of Origin status in Europe, but not in other countries, though there are ongoing disputes regarding locally made halloumi prepared from 100% cow's milk.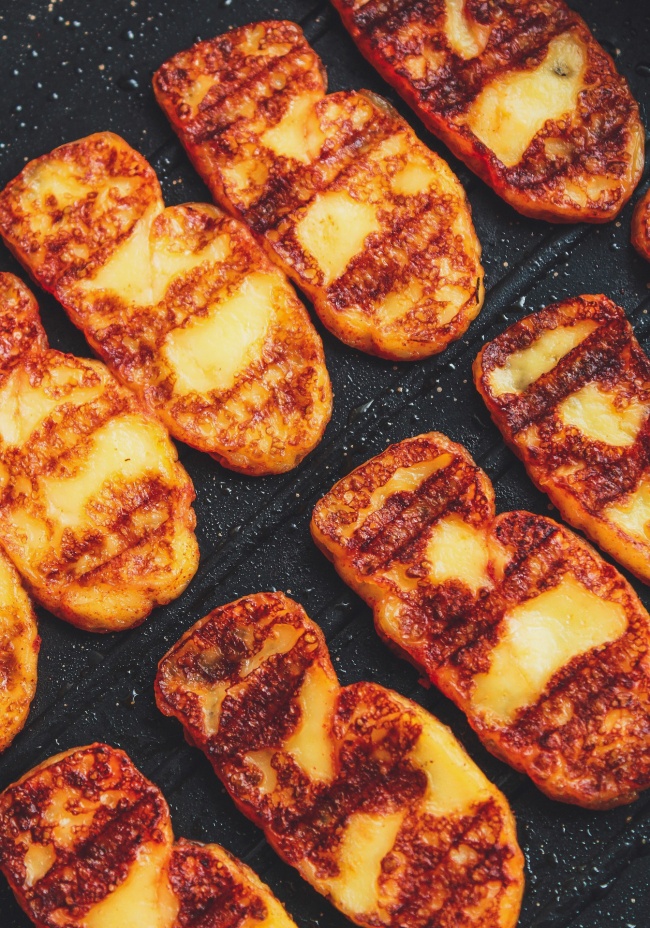 Unique Features of Halloumi Cheese
The moist, tofu like dense and chewy texture of Halloumi, which does not melt when heated has made it very popular for snacks and simple dishes, especially for people wanting to eat less meat in their diet. The proteins in halloumi become very tightly bound when it is made. These intertwined proteins do not unravel when the halloumi is cooked even over high heat. Halloumi can be used in a unique way for a cheese, as you can fry or grill it without it melting. This has created opportunities for a wide array of unique cheese dishes. Halloumi also has a soft and unique rubbery and chewy texture which is very appealing in a wide variety of dishes unsuited for other cheeses.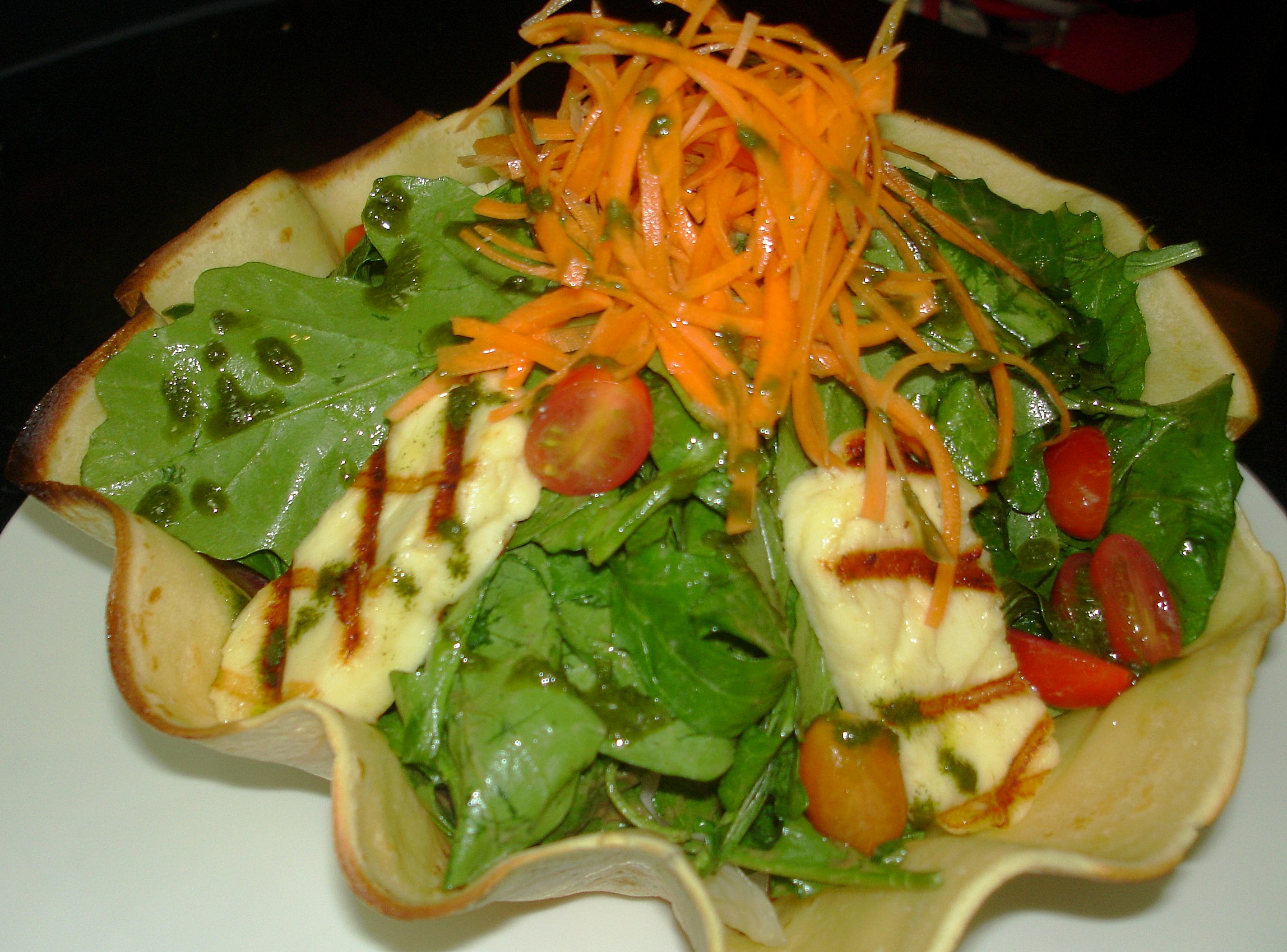 How Do You Use Halloumi?
Halloumi can be eaten raw in salads or with watermelon cubes as they do in Cyprus. The soft, flexible texture of the halloumi provides a delightful contrasting texture and flavours to many cold dishes. Warmed halloumi can be served with prosciutto and figs, added to burgers and pizzas and to a wide variety of stews and curry recipes. Halloumi can be easily cooked in a variety of ways to provide a caramelised outer layer that boosts the flavor. Some of the best ways to cook halloumi are:
How to fry halloumi - Slice the halloumi into medium thick slices (about 5-10 mm; 1/4 to 1/3 inch). Heat a frying pan over a medium heat with a tablespoon of neutral tasting oil such rice bran or grape seed oil,. Fry the halloumi slices in small batches for about 2-4 minutes, until it is golden brown. Then, flip the slices over with tongs and fry the other side for 2-4 minutes. Season the halloumi with freshly ground black pepper, and a splash of lemon juice.
How to bake halloumi - Pre-heat your oven 200 degrees C (390 degrees F). Slice the halloumi into medium thick slices (about 5-10 mm; 1/4 to 1/3 inch). Then, lay the slices in a single layer in a greased ovenproof dish line with baking paper. Drizzle with a little olive oil on top. Bake in the oven for 10-17 minutes, flipping the slices over turning halfway through.
How to grill and BBQ halloumi - Cut the halloumi into medium thick slices (about 5-10 mm; 1/4 to 1/3 inch). Brush them all over with a little olive oil. Then, carefully place them on the grill or ribbed plate, Cook them until they are brown on the hot side and show lovely char marks,. Flip them over and grill the other side. You can also cook the halloumi slices using skewers, with or without mushrooms and other vegetables.
How to stop halloumi getting rubbery when cooked - Halloumi can become tough and somewhat when cooked. The best ways to avoid this are do to avoid this: cut your slices of halloumi a little thicker; don't overcook the halloumi; serve and eat the halloumi straight after cooking it as the slices will lose moisture and get tougher if left to stand.
How to flush salt from halloumi - The halloumi is preserved with salt. This can be removed by marinading the halloumi or leaching out the salt. Place the thin sliced halloumi in a shallow bowl. Soak the halloumi in the juice of one lemon to each packet, Add enough water to just cover all the halloumi slices. Set aside for about 30-60 minutes. Keep covered in the fridge until ready to be using and then drain.
How to Marinade Halloumi
Note: This recipe can be adapted to suit your preferences by using various other combinations of herbs and spices
Ingredients
1 lime
2 tablespoons of water
1 garlic clove, crushed
1 teaspoon crushed dried chillies
8 tablespoons extra virgin olive oil
1 pinch salt and freshly ground black pepper, to taste
250 g (1/2 pound) block halloumi cheese, cut into 8 slices
1 teaspoons dried mint (or 2 teaspoons of fresh mint chopped)
1 teaspoon dried oregano (or 2 teaspoons of fresh oregano chopped)
Method
Finely grate and add the zest of one lime into a shallow glass dish. Squeeze the lime juice into cup. Whisk 6 tablespoons of extra virgin olive oil into the dish with the zest and add the herbs, garlic, lime juice, the chillies, and plenty of freshly ground black pepper. Add the halloumi cheese slices, and use tongs to coat all the slices completely. Cover the dish and marinate in the refrigerator for 2-3 hours or overnight, turning several times.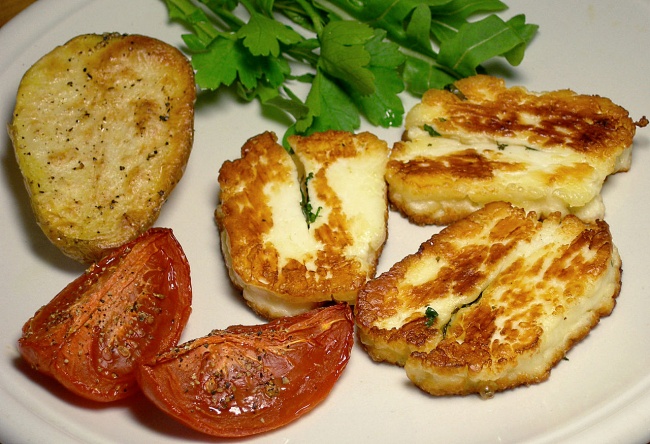 Simple Homemade Halloumi Cheese Recipe
Ingredients
For the halloumi Cheese
1 junket tablet
1 tablespoon salt
1 tablespoons water
1/2 tablespoons dried Italian herbs
1/4 tablespoons chilli flakes or to taste
1 litre (1 quart) un-homogenised cow's milk
1 litre (1 quart) goat's milk or extra cow's milk
For the Brine
1/2 cup water
1 tablespoons salt
1/2 cup of the leftover whey
Method
Preparing the halloumi Cheese - Transfer all the milk into a large Dutch oven or saucepan. Unwrap the junket tablet, crumble and dissolve 1 tablespoon of warm water. Heat the milk over a low heat setting until it reaches 32-35 degrees C (90-95 degrees F). Remove the pan from the the heat, add the dissolved junket and stir for a few seconds. Then, cover the pan and set aside for 30 minutes in a warm area. The milk should set and resemble a jelly. Then, cut it up roughly using a spatula or wooden spoon and stir to separate the whey. Transfer the mixture to a large microwave-safe bowl. Next, add the herbs and chilli and set aside to stand for another 10-12 minutes. Then, place the bowl in a microwave and heat on a high setting for 2 minutes. Then, gently stir the mixture and heat on high for another 2 minutes. Use your finger to test the texture of the curds. They should be elastic and slightly firm. If they are still very soft, stir and heat in the microwave on high for an extra 1-2 minutes.
Straining the halloumi Cheese - To prepare for straining spread gauze or cheese cloth over a large fine sieve placed on top of a large bowl. Pour in the curds and whey. Sprinkle salt liberally over the curds, combine well and begin pressing the cheese to remove excess whey. Next, draw together the edges of the cheesecloth and squeeze out any extra whey. Keep half a cup of whey for the brine.
Making the Brine and Storing the Halloumi - Combine all brine ingredients together in a small bowl and mix well. Next press halloumi cheese into a rectangular container squeezing to remove any air pockets. Set aside in the refrigerator to cool (or into the freezer for 15 minutes). Next, transfer the halloumi into a larger container and cover with the brine mixture. Store in the fridge and consume within a couple of days.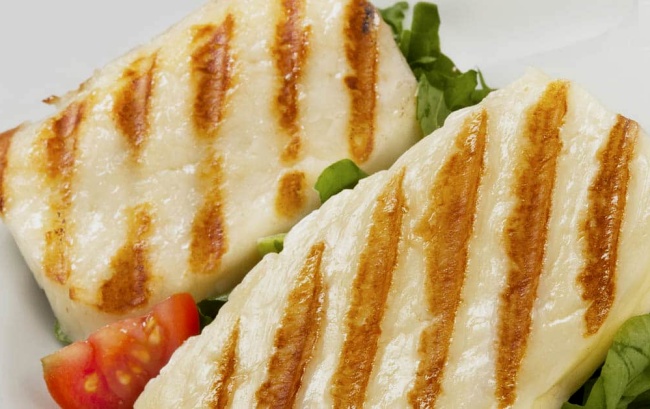 Stellar Halloumi Recipes
Roasted Halloumi Fajitas
Ingredients
3 bell peppers, sliced
1 white onion, peeled and sliced
250 g (8.8oz) halloumi cheese, sliced into strips
For the Fajita Seasoning
1 teaspoon of cumin
2 teaspoons oregano
1 teaspoon chili powder
1 teaspoon garlic granules
2 teaspoons smoked paprika
1 teaspoon ground coriander
For serving
8 flour tortillas
Toppings of your choice: avocado, sour cream or yogurt, various types of salsa
Method
Preheat your oven to 210 degrees C or 410 degrees F. Make the fajita seasoning by combining all the ingredients together in a small bowl. Slice the halloumi, peppers and onion. Place them on a baking sheet brushed with oil. Sprinkle the fajita seasoning over them and then a drizzle of olive oil. Bake in the oven for 20-27 minutes, or until the halloumi is nicely light brown in color (about 15-20 minutes). Serve in tortillas with tomatoes, fresh herbs avocado, onion slices, sour cream or yogurt, and various types of salsa.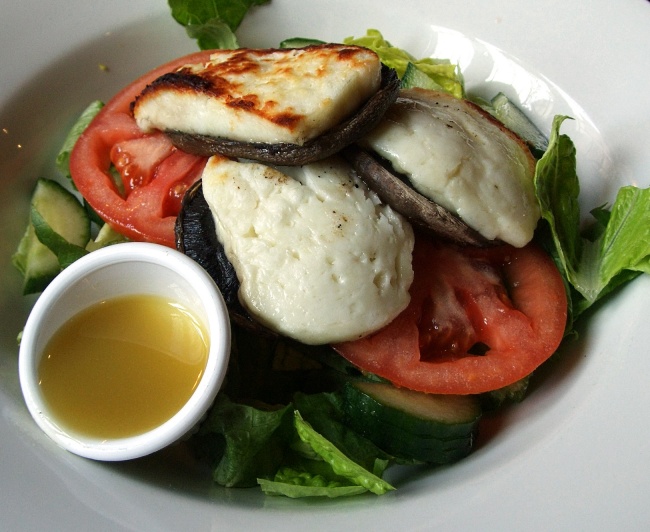 Halloumi, Mint and Preserved Lemon Roll Ups
Ingredients
6 filo pastry sheets
200 g (7 oz) block halloumi cheese
2 tablespoons extra virgin olive oil
12 thin strips of preserved lemon rind
2 tablespoons finely chopped mint leaves
Method
Lay the filo sheets in a stack on top of each other. Slice the stack in half length-ways, then slice each half, cross-ways to make 24 smaller rectangles of pastry. Cover with a damp cloth and set aside. Slice the halloumi into 12 thin fingers. Next combine the olive oil with the mint in a bowl. Lay a pair of filo rectangles on top of each other. Brush with some of the oil from the bowl of oil and mint. Place a piece of halloumi on the short end of the pastry. Place a strip of preserved lemon on top. Then, fold the sides of the filo over the halloumi slice and roll up into a cigar shape. Repeat to make 12 cigar roll ups. Preheat your barbecue hotplate or grill to moderate. Cook the halloumi cigars on the hotplate in batches for 4-6 minutes, turning regularly, until the puff pastry is golden brown and started to brown around the edges. Sprinkle with a sea salt and serve hot, with lemon wedges, tomato salsa and fresh herbs on the side.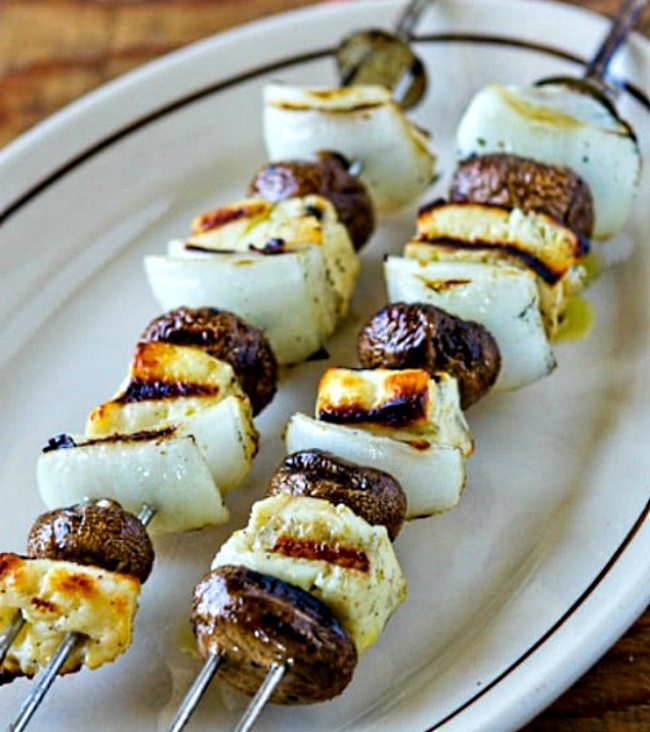 Grilled Halloumi Salad Recipe with Pomegranate and Sumac Dressing
Ingredients
300 g (12 oz) halloumi
olive oil, to drizzle
For the Pomegranate, za'atar and sumac dressing
1 teaspoon sumac
olive oil, to taste
1/2 cup pomegranate seeds
1 teaspoon spine nuts, toasted
1 French shallot, finely diced
1 teaspoon pomegranate molasses
10 fresh za´atar sprigs, picked
1 teaspoon pumpkin seeds, toasted
pinch of sea salt flakes, to taste
1 teaspoon sunflower seeds, toasted
Method
Combine all the dressing ingredients in a small mixing bowl and mix well Taste and adjust the seasoning accordingly. Preheat an oiled char-grill pan or BBQ over high heat. Slice the halloumi into 1 cm (1/2 inch) thick slices and sprinkle with olive oil. Fry in small batches for about 1–2 minutes on each side or until the halloumi are golden brown and have softened a little. Drain on paper towel, and transfer the halloumi to a serving platter in a single layer. Spoon the dressing over the top and serve immediately with fresh herbs, crusty bread slices and a salad.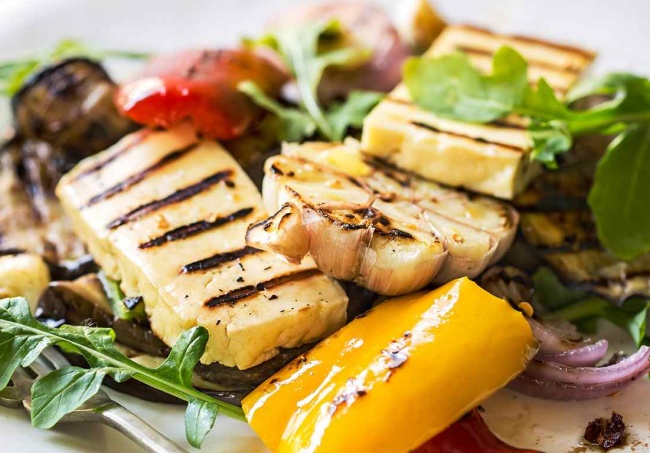 Fried Halloumi with Baba Ganoush and Pomegranate Dressing
Ingredients
For the Halloumi
400 g (14 oz) halloumi, sliced (1 cm; 1/2 inch thick)
8-10 mint leaves, roughly chopped
2 tablespoons pomegranate molasses
3 tablespoons extra virgin olive oil
flatbread and lemon wedges, to serve
2 tablespoons pine nuts, lightly toasted
1/2 cup flat-leaf parsley, roughly chopped
For the Baba ganoush
2 large eggplants
2 tablespoons tahini
3 garlic cloves, crushed
2 1/2 tablespoons lemon juice
1 tablespoon Greek-style yoghurt
1 tablespoon extra virgin olive oil
Method
Prepare the baba ganoush by holding the eggplants in tongs, directly over a gas flame for about 15-20 minutes or until the outer skin is charred all over and the inside is soft and mushy. Alternatively, lightly brush each eggplant with olive oil, place on an oven tray and bake in your oven at 210 degrees C (410 degrees F) for about 20 minutes. Allow the eggplants to cool, and then remove the charred skin and discard. Pulse the cleaned flesh with the remaining ingredients in a food processor or blender. Taste and adjust the seasoning with salt and freshly ground black pepper. Set aside for serving
Next, rinse the halloumi, drain and pat dry with paper towels. Heat the olive oil in a Dutch oven or large, deep frying pan over moderate heat until hot, then fry the halloumi slices for 2 minutes each side or until well browned. To serve, spread the baba ganoush over the base of a large serving plate. Place the fried halloumi slices on top. Whisk the pomegranate molasses and extra virgin olive oil together in a small bowl until combined. Drizzle over the halloumi and baba ganoush on the platter. Scatter parsley, mint and pine nuts on top,. Serve with flatbread, extra fresh herbs and lemon wedges.
Halloumi, Lemon and Caramelised Onion Pie Recipe, Vegan Options
Ingredients
green salad to serve
juice of 1 small lemon
6 white onions, thinly sliced
1/2 teaspoon soft brown sugar
2 tablespoons of olive oil, plus a little extra for greasing
red wine vinegar-dressed tomatoes to serve
For the Vegan Pie Version
1 teaspoon dried mint
zest of 1 small lemon
1 clove garlic, grated
1 teaspoon dijon mustard
1 teaspoon black sesame seeds
small bunch of fresh mint leaves, roughly chopped
320 g (11 oz) vegan ready-rolled shortcrust pastry
200 g (7 oz) vegan cheese block (Halloumi substitute, or firm tofu)
250 g (9 oz) chickpeas (canned), drained and half the liquid from the tin reserved
For the Halloumi Pie Version
zest of 1 small lemon
3 organic eggs, beaten
1 teaspoon of dried mint
225 g (8 oz) of halloumi
1 teaspoon of sesame seeds
small bunch of fresh mint leaves, roughly chopped
320 g (11 oz) ready-rolled shortcrust pastry with butter
For the Green Olive Salsa
1/2 teaspoon honey
12 green olives, pitted
1 teaspoon red wine vinegar
1/2 bunch of fresh mint leaves
4 spring onions, white and green parts thinly sliced
Method
Preheat your oven to 180 degrees C (350 degrees F). Heat the olive oil in a large, deep frying pan or Dutch oven over moderate to high heat. When the oil is simmering add the onions with a pinch of salt, and stir fry to coat all the onion with oil. Turn the heat down to low and cook gently for 20-25 minutes until the onions are completely soft and translucent. Next, add the brown sugar and cook for another 5-7 minutes, until the onions begin to brown in colour. Squeeze in the lemon juice and cook for an additional 5 minutes, until the onions are glossy and have an even golden brown color.
Next, Lightly grease a 20 cm x 30 cm (8 n x 12 in) baking tray or loose-bottomed baking tin with olive oil. Line the inside with baking paper. Next, unroll the shortcrust pastry. Apply it to the base of the tin, extending up the sides. Place another sheet of paper on the top and fill with baking beans. Place the pan with the pastry in the preheated oven and bake the crust for 15 minutes. Next, remove the baking beans and paper. Place the pastry back in the oven to cook the base for an additional 4-5 minutes.
Next, prepare the vegan filling if you are using this option. Blitz the chickpeas and half the liquid from the tin together in a large bowl with a hand-held blender until the mixture is completely smooth. Add the dijon mustard, dried and fresh mint garlic, lemon zest and most of the halloumi-style cheese, grated. Stir to combine well and season with pepper.
Prepare the halloumi filling if you are using this option. Combine the beaten eggs together with the lemon zest and the dried and fresh mint, and most of the halloumi, grated. Season well with black pepper.
To assemble the pie, spread the caramelised onions over the baked pastry shell base. Spread your choice of filling on the top of the onions, spreading evenly using a spatula. Then, sprinkle the last bit of halloumi (or the vegan cheese) on the top. Return to the oven and bake for about 35 minutes. Meanwhile, make the salsa by roughly chopping the olives spring onions and mint, and mixing in the vinegar and honey. Remove the pie from the oven, when cooked. Set aside for 5 minutes to cool a little. Then, serve topped with the green olive salsa.