Which is Healthier a Fruit Smoothie or a Coffee, Black or White?
The answer to this would appear to be a done deal. A smoothie is made from fresh fruit, while coffee has a high dose of caffeine and few nutrients especially if its black coffee without sugar or milk.
But research studies reveal that the answer is not as simple as that, especially with recent research that points to coffee being better for you than many people thought.
Fruit smoothies have high calories and sugar and so the value if the nutrients is offset by the carbohydrate load.
This article weighs up the pros and cons of smoothies versus coffee and chooses a winner.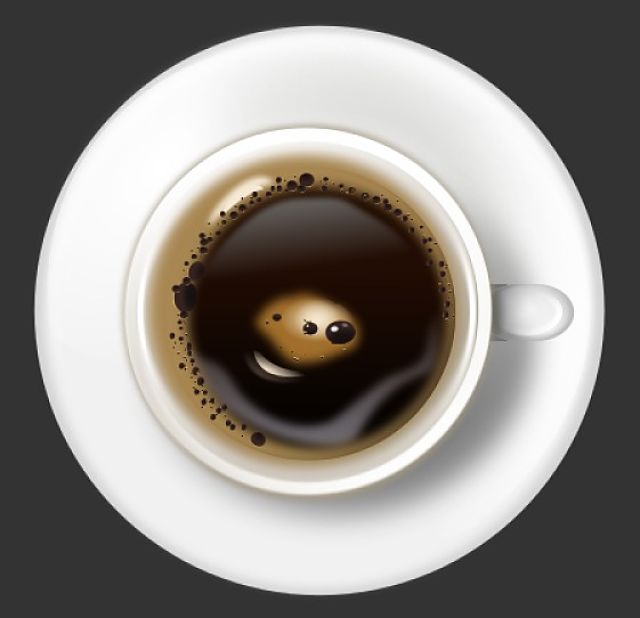 Much of the Research Data is Flawed
Many scientific studies, especially concerning food and drink suffer from the problems of overextending the conclusions from demonstrating an association between two things, such as coffee consumption and early deaths, to say that caffeine increased the risk of mortality. In many cases the confounding effects of other factors has not been properly eliminated. For example the coffee drinkers may be more prone to stress or less fit and overweight. These factors may be bigger contributors to the mortality risk than the coffee itself.
Despite many claims that coffee and caffeine are bad for you and lessen your life expectancy, recent studies of a large number of men and women over a long period of time have dispelled this myth.
Data from more than 130,000 men and women, who were tracked over a 20 year period concluded that coffee consumption was not linked with higher mortality rates in either women or men.

Many other studies have suggested that drinking 2-5 cups of coffee many be good for your health and may provide a slight lowering of the all-cause mortality risk. This may be due to coffee being a rich source of flavonoids and other antioxidant compounds.
Link between Coffee and Depression
Coffee has also been shown to provide relief from depression. A recent research study found that people who drank 2-4 cups of caffeinated coffee every a day were 50% less likely to commit suicide as those who either drank decaff coffee, no coffee, or less than two cups of coffee a day.

Once again this research included a very large number of people (200,000) monitored over a 14 year period. Of course, demonstrating an association between caffeine consumption and lower risk of suicide does not prove cause and effect, but the large sample size is compelling, as the effect of many other factors should be reduced by the sample size.

One reason why caffeine could provide a mild anti-depressant reaction is that coffee is known to increase the levels of neurotransmitters such as serotonin and dopamine, which are known to improve mood and the feeling of well-being.
Coffee and caffeine is also known to boost athletic performance, team sports and gym workouts.
Calories in Various Styles of Coffee
A simple mug of black coffee made with water and not milk, or with perhaps 1-2 teaspoons of milk and no sugar, has less than 50 calories per cup. Drinking Cappuccinos, mochas and lattes, with added sugar can double the calories per cup to 100. In the worst case there can be 600 calories per cup.
The table below summarizes the calories in various types of coffee, as well as whiteners and sugar. It shows that black coffee, and coffee with minimal milk and sugar, is healthy, but lattes and other milk based coffees have high calories.
Calories in various types of coffee and also for whiteners and sugar
| Coffee (16 oz Serve) | Calories |
| --- | --- |
| Black Coffee, regular | 10 |
| Black Coffee, decaf | 10 |
| Starbucks Cappuccino | 140 |
| McDonalds Latte | 180 |
| Starbucks Latte | 220 |
| Starbucks Mocha (no whip) | 290 |
| McDonalds Mocha | 330 |
| Starbucks Mocha (whip) | 360 |
| White Chocolate Mocha (whip) | 450 |
| | |
| Whiteners (1 tablespoon) | |
| skim milk (fat free milk) | 6 |
| 2% milk | 8 |
| 'fat free' half & half | 10 |
| whole milk | 10 |
| half & half | 20 |
| heavy cream | 50 |
| | |
| Sugar (1 packet, teaspoon) | |
| Sweet 'N' Low | 2 |
| Splenda | 4 |
| Sugar | 11 |
Are Fruit Smoothies Really Healthy?
While fruit smoothies are made from fruit, there are a lot of calories in fruit, and if you use fruit juice, it may contain a lot of added sugar as well.
The other major point is that not all of the whole fruit is used for making the smoothie, especially the larger fruits that have to be peeled.
A large proportion of the nutrients of many fruits are located in the skin, or just under it. This includes most of the fiber. These nutrients are not included when the fruit is peeled and made into a smoothie. Though smoothies contain more vitamins and minerals than coffee. It is the sugar and calories that are the problem.

The table below compares the nutrients in whole fruit with that of the juice made from the same fruit.
If you use fruit juices for making smoothies, you may be drinking little more than a sugary drink.
A recent research study that looked at the sugar content of 52 commercial smoothies produced some surprising results.
About 80% of the smoothies had more sugar than the same volume of Coca-Cola and all the smoothies had more calories than many sodas.
A 12oz can of Coca-Cola contains the equivalent of about 9 teaspoons of sugar. So many commercial smoothies contain a lot of sugar, both from the fruit and added in preparing the smoothie.

The summary below shows that a smoothie has about the same number of calories as a latte, which has a lot more calories than a black coffee with sugar, or a coffee to which 1-2 teaspoons of milk are added. This puts a smoothie in the mid-range of calories in coffee.

Major Nutrients in a Typical Fruit Smoothie (Serving Size - 2 cups (16 oz))

Calories 260
Total Fat 0.6g
Total Carbohydrate 67g
Dietary Fiber 4g
Sugars 55g
Protein 1.6g
Comparison of Nutrients in Fresh Whole Fruit with Juice made from it
| Fruit | Serving | Calories | Fat (g) | Protein (g) | Carbs (g) | Sugar (g) | Fiber (g) |
| --- | --- | --- | --- | --- | --- | --- | --- |
| Apple | 1 medium | 72 | 0.23 | 0.36 | 19 | 14 | 0.4 |
| Apple juice | 1 cup | 117 | 0.27 | 0.15 | 29 | 27 | 0.2 |
| Orange | 1 medium | 69 | 0.21 | 1.27 | 18 | 12 | 3 |
| Orange Juice | 1 cup | 112 | 0.5 | 1.74 | 26 | 21 | 0.5 |
| Grapes | 1 medium | 110 | 0.26 | 1.15 | 29 | 25 | 1.4 |
| Juice | 1 cup | 154 | 0.2 | 1.42 | 38 | 38 | 0.3 |
| Grapefruit | 1 medium | 52 | 0.2 | 0.95 | 13 | 8 | 2 |
| Grapefruit Juice | 1 cup | 96 | 0.25 | 1.24 | 23 | 22 | 0.2 |
Conclusion
► Black coffee is definitely healthier than smoothies. Coffee has fewer calories and there are some benefits from the caffeine in moderation and the antioxidants.
► Milk based coffees such as lattes have similar calories to fruit smoothies. On this basis most coffees are healthier than smoothies.
► Drinking more than 5 cups of coffee a day is not healthy
► Some of the lattes and other milk based coffees have very high calories, especially when laden with sugar. These are the least healthy drinks.
So the WINNER is COFFEE!
Related Articles
=> Q&A Almond Milk: Best Ever Recipes, Uses and Nutrient Comparisons with Other Milks
=> How to Make French Toast - Recipes, Sweet, Savoury, Cinnamon, Milk
=> Do Milk and Dairy Products Increase Phlegm and Mucus Production?
=> Are Fruit Smoothies Actually Healthy? Fact or Fiction?
=> Healthy Breakfast Fruit Smoothies - Best Tips and Recipes
=> Simple Healthy Smoothie Recipes for Adults - Low Carb, Low Fat Snacks for Weight Loss
=> Best Green Smoothie Recipes - Healthy, Nutritious Green Smoothies for Weight Loss
=> Q&A: Best Alternatives to Coffee - What to Drink Instead of Espresso?
=> Q&A: Is Coffee Good For You - Best Types and Health Facts for Coffee, Caffeine Benefits
=> Best and Worst Times to Drink Coffee According to Research Reviews
=> Capsule and Pod Coffee Reviews - Pros and Cons Compared with Espresso