Why Nuts are Healthy - Good Fat, Great Nutrients, Pros, Cons, Go Nuts for Nuts
Nuts are a fabulous health food that has suffered from unfounded claims that they are full of fat and a junk food. The wonderful array of nutrients, anti-oxidants, fiber in nuts has been largely ignored.
The fats in nuts is mostly good fat - that is the same type of fat that is in olive oil promoted as part of the Mediterranean Diet. Most of the fatty acids in nuts are unsaturated - Good Fats.

Research has shown that eating a handful of nuts every day can help lower blood cholesterol levels and reduces the risk of coronary heart disease. Regular nut consumers don't gain weight despite the high fat and energy content.
Nuts are rich in calories, but eaten in moderation they are not fattening. Research has confirmed this. So why do most people only nibble on them once a month or less, mostly at parties and celebrations such as Christmas? Studies have shown that less than 2% of people eat nuts daily.

It's time to go nuts for nuts! Even Weight Watchers has seen the light and now recommends eating about 30g of unsalted nuts daily as a snack between meals.
This is because of the fabulous nutrients and because the protein and fiber in nuts can quell hunger pangs. Research has shown that about 15% of the fat in nuts does not reach the blood stream and is excreted.

Learn more about the pros and cons of eating nuts, which ones are the healthiest, and how to use them more often in a variety of ways.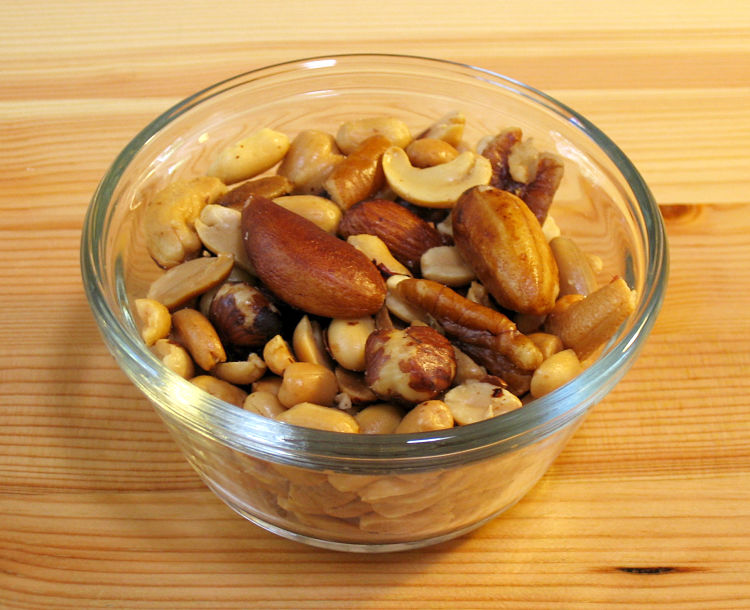 Getting The Facts on Nut Nutrition
The various kinds of nuts have different nutrient contents, but generally nuts contain:
Minerals such as potassium, selenium, copper, calcium, iron, zinc and magnesium
Vitamins niacin, E, B6 and folic acid.
Plant protein, as an alternative to meat. Nuts are also high in the amino acid arginine known to help maintain blood vessels.
Dietary fiber
Phytochemicals, such as phenolic compounds, phytoestrogens (isoflavones), flavonoids and ellagic acid.
No cholesterol
High levels of polyunsaturated and mono-unsaturated fatty acids.
Low levels of saturated fats
What are the Best and Worst Nuts in terms of Nutrients
The two tables below summarize the nutrients in popular nuts and provide listing of the best and worst nuts in terms of overall health ranking.
A weighted formula was used to generate an overall ranking for the best and worst nuts in terms of nutrients:

Positive Nutrients
Protein (g)
Dietary Fiber (g)
Negative Nutrients
Total Fat (g)
Saturated Fat (g)
So, the healthiest nuts are those with the best combination of high protein and fiber, and low fat, especially saturated fat. The various nuts have been ranked in the table from best at the top and worst at the bottom. The listings have been summarized below:
--------------------------------------
The Best Twelve Nuts Overall
pumpkin seed, whole (roasted)
chestnuts, European (dried, unpeeled)
almonds (raw)
almonds (dry roasted)
sesame seeds, whole (roasted)
pistachio nuts (dry roasted)
pistachio nuts (raw)
almonds (blanched)
almonds (oil roasted)
sunflower seed kernels (dry roasted)
pumpkin seed kernels (roasted)
pumpkin seed kernels (dried)
The inclusion of pumpkin seeds may be inappropriate because it is a seed and the outer shell renders these seeds health on a weight basis. The other nuts listed are almonds, pistachio and chestnuts which generally follows general opinion. The surprise omission is hazelnuts which many people regard as one of the healthiest. However they have less protein than the other three and more saturated fat.
The Best Seven of the Popular Nuts (raw)
almonds (raw)
pistachio nuts (raw)
hazelnuts, filberts (raw)
chestnuts (raw)
cashew nuts (raw)
walnuts, (raw)
pecans (raw)

This list generally follows general opinion. Cashews, walnuts and pecans, all have higher levels of total fat and saturated fat. The same applies to macadamia and Brazil nuts.
The Worst Twelve Nuts Overall
coconut meat (raw)
beechnuts (dried)
macadamia nuts (dry roasted)
macadamia nuts (raw)
Brazil nuts (dried)
pine nuts (dried)
pecans (oil roasted)
acorns (dried)
pecans (dry roasted)
hickory nuts (dried)
pecans (raw)
acorns (raw)
The worst nuts are listed with the absolute worst (coconut) at the top. It may be inappropriate to include coconut because it is not strictly a nut. But it is often used like a nut for desserts. As shown in the table below, coconut has low protein, but very high fat levels, most of which is saturated fat (50 g per 100g). Macadamia nuts, Brazil nuts, pine nuts and pecans also have relatively high fat levels.
Comparison of Nutrients in Nuts with Various Meats
| Nut or Meat (100g) | Cal | Protein (g) | Total fat (g) | Sat fat (g) | Fiber (g) |
| --- | --- | --- | --- | --- | --- |
| Chestnuts | 374 | 6.4 | 4.4 | 0.8 | 4.1 |
| Pumpkin Seeds | 444 | 18.6 | 19.4 | 3.7 | 3.0 |
| Almonds | 578 | 21.0 | 55.8 | 4.4 | 8.4 |
| Hazelnuts | 628 | 15.0 | 60.7 | 4.5 | 8.4 |
| Lentils (cooked) | 323 | 7.6 | 0.4 | 0.0 | 7.0 |
| Beef (lean) | 313 | 23.0 | 9.3 | 3.8 | |
| Pork (lean) | 252 | 21.4 | 4.0 | 1.4 | |
| Cod fillet | 211 | 19.4 | 0.7 | 0.1 | |
| Salmon | 180 | 20.2 | 11.0 | 1.9 | |
| Turkey Breast | 180 | 29.9 | 3.2 | 1.0 | |
| Chicken Breast | 171 | 30.1 | 4.5 | 1.3 | |
| Eggs | 147 | 8.1 | 7.0 | 2.0 | |
| Prawns | 106 | 10.5 | 7.5 | 1.1 | |
Dispelling the Myths about Nuts
Nuts are beneficial, but their high calories kills any benefits
It is true that nuts have high calories, because of their high fat content, but they are mostly eaten in small quantities (half a cup). The table above compares the calories in three healthy nuts (almonds, chestnuts and hazelnuts, as well as pumpkin seeds) with those in meat and fish. The data for lentils is also included for comparison.
As shown in the table, nuts have about twice the calories of animal protein (meat, fish and eggs). Despite this, research has shown that about 15% of the fat in nuts, passes through the intestine without being absorbed. Various research studies have shown that the inclusion of nuts in diets does not cause weight gain, despite the assumed increase total caloric intake. Subjects who ate about 30 g of nuts 2–5 times a week did not show any increases in weight compared with a control group that ate no nuts only one a week. There is some evidence that the reverse may be true, perhaps because of the appetite suppression properties of nuts. A recent study showed that weight gain after 4 years was less for subjects who ate more nuts.

The best way to increase the amount of nuts you eat is to see them as a partial replacement for meat. This means that your overall calorie consumption will remain the same, but you will benefit from the reduced saturated fat in your diet, lower cholesterol and fiber in nuts. The table shows that the fat content of nuts is much higher than in meat, but the level of saturated fat and cholesterol is much lower.
Why do People Go Nuts about Fat in Nuts?
The paradox of nuts is that while they are rich in fat they don't appear to make people fat. Pistachios have more than 50% fat and walnuts even more at almost 70% fat. Despite this various research studies show that people who regularly eaters don't gain the expected extra weight. Most of the fat is so-called 'good fat' rather than the damaging saturated fat.
Can Eating Nuts Lower Cholesterol of Reduce the Risk of Heart Disease?
A research study that examined data from 25 studies undertaken in seven countries (583 men and women) and showed that eating nuts helps lower cholesterol levels. The nuts included in the study were evaluated included peanuts, macadamia nuts, walnuts, pistachios, pecans, hazelnuts and almonds. The subjects in the various studies ate an average of about 3 ounces (65g) of nuts daily. The average reduction in total cholesterol levels from eating nuts was about 5%, with 7.5% reduction in LDL ('bad cholesterol'). There was an 8% reduction in the ratio of bad to good cholesterol (LDL to HDL - 'good' cholesterol. Eating nuts also produced a reduction of 10% in triglyceride levels. These reductions lowered the risk of heart disease in the subjects who ate nuts.

Researchers have also shown that eating nuts can help reduce the risks of heart disease, including patients who have previously had a hear attack. The researchers have suggested that this benefit of nuts on heart health is due to:
the fiber and vitamins in nuts such as vitamin E also helps reduce cardiovascular risk
nuts are rich in the amino acid arginine, that helps to improve blood vessel function
walnuts and other nuts contain omega-3 fats (also found in fatty fish) that benefit the heart
nuts contain polyunsaturated and mono-unsaturated fats that are known to benefit the heart
eating nuts, that have no cholesterol, replaces less healthy foods in the diet such as meat that has high cholesterol levels
nuts may help to lower cholesterol
Why is the Fiber in Nuts Important?
While nuts are high in fat, it appears that the fiber in nuts may help reduce the amount of fat that is actually absorbed from the intestine. Nut consumers excrete more fat. It appears that about 20% of the energy in nuts is not absorbed. Nut consumption also appears to reduce the appetite so that people eat less of other foods.
Conclusion
What are the pros and cons of eating nuts in moderation (about 30-60g) per day?

Pros
helps reduce cholesterol
appetite suppression
no cholesterol
replaces other less healthy components in the diet such as red meat
dietary fiber
vitamins
minerals
vegetable protein
Cons
high calories
high fat, but only moderate saturated fat
expensive
allergies
high sodium intake from eating salted nuts
Best and Worst Nuts - Overall Assessment
| | | | | | | | | |
| --- | --- | --- | --- | --- | --- | --- | --- | --- |
| pumpkin seed, whole (roasted) | 444 | 18.55 | 19.4 | 53.76 | 18.34 | 3.67 | 6.03 | 8.84 |
| chestnuts, European (dried, unpeeled) | 374 | 6.42 | 4.44 | 77.32 | 11.99 | 0.84 | 1.54 | 1.76 |
| almonds (raw) | 575 | 21.23 | 49.42 | 21.66 | 12.35 | 3.73 | 30.89 | 12.07 |
| almonds (dry roasted) | 596 | 21.06 | 52.06 | 21.2 | 10.93 | 4.03 | 32.38 | 12.99 |
| sesame seeds, whole (roasted) | 567 | 16.94 | 48 | 25.72 | 13.89 | 6.72 | 18.13 | 21.04 |
| pistachio nuts (dry roasted) | 568 | 20.95 | 44.83 | 29.38 | 9.88 | 5.46 | 23.68 | 13.45 |
| pistachio nuts (raw) | 561 | 20.28 | 45.4 | 27.51 | 10.23 | 5.56 | 23.82 | 13.74 |
| almonds (blanched) | 589 | 21.41 | 52.52 | 18.66 | 9.88 | 3.95 | 33.41 | 12.37 |
| almonds (oil roasted) | 607 | 21.23 | 55.17 | 17.67 | 10.58 | 4.21 | 34.79 | 13.52 |
| sunflower seed kernels (dry roasted) | 582 | 19.33 | 49.81 | 24.06 | 10.93 | 5.22 | 9.51 | 32.89 |
| pumpkin seed kernels (roasted) | 575 | 29.84 | 49.07 | 14.71 | 6.35 | 8.54 | 15.74 | 19.86 |
| pumpkin seed kernels (dried) | 557 | 30.23 | 49.07 | 10.72 | 6 | 8.66 | 16.24 | 20.98 |
| lotus seeds (dried) | 332 | 15.38 | 1.98 | 64.48 | | 0.33 | 0.39 | 1.16 |
| sesame seeds, whole (dried) | 572 | 17.72 | 49.67 | 23.44 | 11.67 | 6.96 | 18.76 | 21.77 |
| sunflower seed kernels (oil roasted) | 593 | 20.07 | 51.29 | 22.89 | 10.58 | 7.07 | 8.06 | 34.29 |
| sunflower seed kernels (dried) | 586 | 20.78 | 51.46 | 20 | 8.47 | 4.46 | 18.53 | 23.14 |
| butternuts (dried) | 614 | 24.9 | 56.97 | 12.06 | 4.59 | 1.31 | 10.42 | 42.74 |
| walnuts, black (dried) | 617 | 24.06 | 59.01 | 9.91 | 6.7 | 3.37 | 15.01 | 35.08 |
| sunflower seed kernels (toasted) | 617 | 17.21 | 56.79 | 20.6 | 11.64 | 5.95 | 10.84 | 37.51 |
| chestnuts, European (roasted) | 243 | 3.17 | 2.19 | 52.95 | 4.94 | 0.41 | 0.76 | 0.87 |
| ginkgo nuts (dried) | 346 | 10.37 | 1.98 | 72.45 | | 0.38 | 0.74 | 0.73 |
| hazelnuts, filberts (blanched) | 628 | 13.69 | 61.16 | 17 | 10.93 | 4.67 | 48.19 | 5.56 |
| hazelnuts, filberts (raw) | 628 | 14.96 | 60.74 | 16.68 | 9.52 | 4.47 | 45.65 | 7.92 |
| chestnuts, Chinese (dried) | 360 | 6.84 | 1.83 | 79.79 | | 0.27 | 0.95 | 0.47 |
| hazelnuts, filberts (dry roasted) | 646 | 15.03 | 62.4 | 17.6 | 9.52 | 4.51 | 46.61 | 8.46 |
| chestnuts, Japanese (dried) | 360 | 5.22 | 1.27 | 81.41 | | 0.18 | 0.65 | 0.32 |
| chestbuts, Chinese (roasted) | 240 | 4.48 | 1.2 | 52.35 | | 0.18 | 0.62 | 0.31 |
| lotus seeds (dried) | 88 | 4.13 | 0.53 | 17.28 | | 0.09 | 0.1 | 0.31 |
| chestnuts, Chinese (raw) | 226 | 4.2 | 1.09 | 49.07 | | 0.16 | 0.58 | 0.29 |
| ginkgo nuts (raw) | 183 | 4.3 | 1.69 | 37.6 | | 0.32 | 0.62 | 0.62 |
| chestnuts, European (dried, peeled) | 367 | 5.01 | 3.88 | 78.45 | | 0.73 | 1.35 | 1.54 |
| chestnuts, Japanese (roasted) | 201 | 2.96 | 0.81 | 45.11 | | 0.12 | 0.42 | 0.21 |
| chestnuts, Chinese (boiled and steamed) | 152 | 2.89 | 0.78 | 33.65 | | 0.11 | 0.4 | 0.2 |
| chestnuts, Japanese (raw) | 155 | 2.26 | 0.53 | 34.92 | | 0.08 | 0.28 | 0.14 |
| chestnuts, European (boiled and steamed) | 131 | 2.01 | 1.38 | 27.76 | | 0.26 | 0.48 | 0.55 |
| cashew nuts (raw) | 554 | 18.24 | 43.84 | 30.19 | 3.17 | 7.78 | 23.8 | 7.84 |
| chestnuts, European (raw, peeled) | 198 | 1.62 | 1.23 | 44.16 | | 0.24 | 0.43 | 0.49 |
| chestnuts, Japanese (boiled and steamed) | 56 | 0.81 | 0.18 | 12.63 | | 0.03 | 0.1 | 0.05 |
| safflower seed kernels (dried) | 519 | 16.19 | 38.45 | 34.29 | | 3.68 | 4.85 | 28.22 |
| walnuts, english | 653 | 15.24 | 65.22 | 13.72 | 6.7 | 6.13 | 8.93 | 47.17 |
| cashew nuts (oil roasted) | 578 | 16.83 | 47.76 | 29.88 | 3.17 | 8.48 | 25.92 | 8.55 |
| cashew nuts (dry roasted) | 575 | 15.31 | 46.35 | 32.7 | 3.17 | 9.16 | 27.32 | 7.84 |
| acorns (raw) | 388 | 6.14 | 23.84 | 40.74 | | 3.1 | 15.11 | 4.6 |
| pecans (raw) | 691 | 9.17 | 71.96 | 13.86 | 9.52 | 6.18 | 40.8 | 21.62 |
| hickory nuts (dried) | 656 | 12.73 | 64.37 | 18.24 | 6.35 | 7.04 | 32.61 | 21.89 |
| pecans (dry roasted) | 709 | 9.49 | 74.29 | 13.54 | 9.52 | 6.28 | 43.96 | 20.57 |
| acorns (dried) | 508 | 8.11 | 31.39 | 53.65 | | 4.08 | 19.9 | 6.05 |
| pecans (oil roasted) | 716 | 9.21 | 75.24 | 13.02 | 9.52 | 7.24 | 40.97 | 23.58 |
| pine nuts (dried) | 674 | 13.69 | 68.36 | 13.09 | 3.53 | 4.9 | 18.77 | 34.07 |
| brazil nuts (dried) | 656 | 14.32 | 66.42 | 12.28 | 7.41 | 15.14 | 24.55 | 20.58 |
| macadamia nuts (raw) | 720 | 7.9 | 75.77 | 13.83 | 8.47 | 12.06 | 58.88 | 1.5 |
| macadamia nuts (dry roasted) | 720 | 7.8 | 76.08 | 13.37 | 8.11 | 11.95 | 59.27 | 1.5 |
| beechnuts (dried) | 575 | 6.21 | 50.02 | 33.51 | | 5.72 | 21.89 | 20.09 |
| coconut meat (raw) | 355 | 3.33 | 33.5 | 15.23 | 9 | 29.7 | 1.43 | 0.37 |
| coconut meat (dried,unsweetened) | 663 | 6.91 | 64.55 | 23.63 | 16.23 | 57.22 | 2.74 | 0.71 |
| coconut meat (dried, toasted) | 593 | 5.29 | 46.98 | 44.37 | | 41.68 | 2 | 0.51 |
Nutrition Summary for Popular Nuts (100g serving of raw nuts)
| Nutrients (Serving 100g) | almonds | hazelnuts | macadamia | pecans | pistachio | brazil nuts | walnuts |
| --- | --- | --- | --- | --- | --- | --- | --- |
| Calories (kcal) | 589 | 628 | 720 | 691 | 561 | 656 | 617 |
| Protein (g) | 21.41 | 14.96 | 7.9 | 9.17 | 20.28 | 14.32 | 24.06 |
| Total Fat (g) | 52.52 | 60.74 | 75.77 | 71.96 | 45.4 | 66.42 | 59.01 |
| Total Carbs (g) | 18.66 | 16.68 | 13.83 | 13.86 | 27.51 | 12.28 | 9.91 |
| Dietary Fiber (g) | 9.88 | 9.52 | 8.47 | 9.52 | 10.23 | 7.41 | 6.7 |
| Sugar (g) | 4.62 | 4.34 | 4.59 | 3.99 | 7.65 | 2.33 | 1.09 |
| Vitamins | 0 | 0 | 0 | 0 | 0 | 0.00 | 0 |
| Vitamin C (mg) | 0 | 6.35 | 1.06 | 1.06 | 5.64 | 0.71 | 1.76 |
| Thiamin (mg) | 0.19 | 0.64 | 1.2 | 0.66 | 0.87 | 0.62 | 0.06 |
| Riboflavin (mg) | 0.71 | 0.11 | 0.16 | 0.13 | 0.16 | 0.04 | 0.13 |
| Niacin (mg) | 3.5 | 1.8 | 2.47 | 1.17 | 1.3 | 0.30 | 0.47 |
| Pantothenic Acid (mg) | 0.31 | 0.92 | 0.76 | 0.86 | 0.52 | 0.18 | 1.66 |
| Vitamin B6 (mg) | 0.12 | 0.56 | 0.28 | 0.21 | 1.7 | 0.10 | 0.58 |
| Folate (mcg) | 49.38 | 112.87 | 10.58 | 21.16 | 49.38 | 21.16 | 31.75 |
| Vitamin B12 (mcg) | 0 | 0 | 0 | 0 | 0 | 0.00 | 0 |
| Vitamin A (IU) | 7.05 | 21.16 | 0 | 56.44 | 416.23 | 0.00 | 38.8 |
| Vitamin E (mg) | 23.74 | 15.03 | 0.53 | 1.41 | 2.29 | 5.71 | 1.8 |
| Vitamin K (mcg) | 0 | 14.11 | | 3.53 | | 0.00 | 2.82 |
| Minerals | 0 | 0 | 0 | 0 | 0 | 0.00 | 0 |
| Calcium (mg) | 236.33 | 112.87 | 84.66 | 70.55 | 105.82 | 158.73 | 59.96 |
| Iron (mg) | 3.28 | 4.69 | 3.7 | 2.54 | 3.92 | 2.43 | 3.1 |
| Magnesium (mg) | 268.08 | 162.26 | 130.51 | 119.93 | 119.93 | 377.43 | 201.06 |
| Phosphorus (mg) | 479.72 | 289.24 | 186.95 | 278.66 | 490.3 | 726.63 | 511.46 |
| Potassium (mg) | 659.61 | 680.78 | 366.84 | 409.17 | 1026.46 | 659.61 | 522.05 |
| Sodium (mg) | 17.64 | 0 | 3.53 | 0 | 0 | 3.53 | 3.53 |
| Zinc (mg) | 2.96 | 2.43 | 1.31 | 4.51 | 2.19 | 4.06 | 3.39 |
| Copper (mg) | 1.03 | 1.72 | 0.75 | 1.2 | 1.3 | 1.74 | 1.36 |
| Manganese (mg) | 1.83 | 6.18 | 4.13 | 4.5 | 1.2 | 1.22 | 3.9 |
| Selenium (mcg) | 3.17 | 2.47 | 3.53 | 3.88 | 7.05 | 1917.11 | 16.93 |
| Fatty Acids | 0 | 0 | 0 | 0 | 0 | 0.00 | 0 |
| Saturated Fat (g) | 3.95 | 4.47 | 12.06 | 6.18 | 5.56 | 15.14 | 3.37 |
| Monounsat. Fat (g) | 33.41 | 45.65 | 58.88 | 40.8 | 23.82 | 24.55 | 15.01 |
| Polyunsat. Fat (g) | 12.37 | 7.92 | 1.5 | 21.62 | 13.74 | 20.58 | 35.08 |